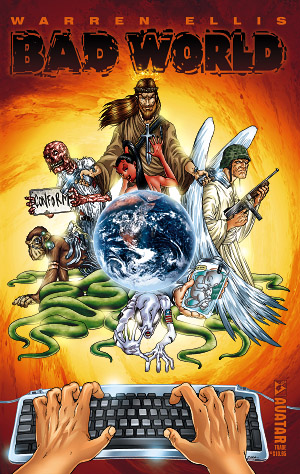 Warren Ellis' Bad World TPB
Retail Price: $10.95 US
Cover: Jacen Burrows
Writer: Warren Ellis
Artist: Jacen Burrows
Readership: Mature Readers
Format: B&W, 80 pages, square bound graphic novel
Diamond: STAR16317
ISBN: 0970678487
Warren Ellis and Jacen Burrows, the creative team of the critically acclaimed Dark Blue and Scars, bring to life this sick decent into the foulest reaches of the world we live in. A world of beauty in the eyes of many, but to bleeding-edge writer Warren Ellis, a world filled with evil, sin, decay and filth. A Bad World indeed. Told in a unique format of text and illustrations, Ellis explores the far edges of humanity, the people who are hanging to reality by the thinnest of threads, and those that are simply off their rockers. This collection of all three issues also features a gallery of the stunning artwork of Jacen Burrows and a new introduction by Warren Ellis.

Warren Ellis' Bad World is in print and available now at your local comic shop and book store. Please support your local stores. If you can't find Bad World locally, you may order it from our direct sales agent here.