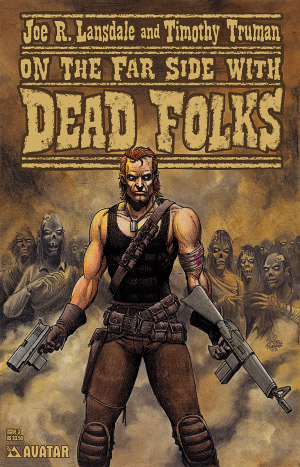 "I remember the first time I read Joe R Lansdale: I realized I was not alone. Dead Folks is the man at his best."
-- Garth Ennis, creator of Preacher and Dicks
Lansdale and Truman's
Dead Folks
Joe R. Lansdale and Timothy Truman
Format: B&W, 32 pages, monthly, 3 issue mini-series

The cult favorite team of Joe R. Lansdale and Timothy Truman are back together for the first time in years bringing all the hilarious insanity and violence that made their Jonah Hex series modern classics. Except this time the kid gloves are off as they deliver more mayhem, death, and of course zombies, per page than any other book on the market! Wayne is a bounty hunter, but he has the bad luck to be one in the middle of a desert filled with the undead. But he has to bring in his man if he wants to get paid and the dead folks best get out of his way if they know what's good for 'em. But of course, being dead, they don't. Joe Lansdale's over-the-top dialogue and Truman's crisp lines make this book a must read for fans of Garth Ennis and Warren Ellis work, if you are not already a convert to the church of Lansdale.


Lansdale and Truman's Dead Folks will be available in March 2003 at your local comic shop. Please support your local stores. If you can't find Dead Folks locally, you may order it from our direct sales agent here.
Additional Artwork from Lansdale and Truman's Dead Folks
Read more about
Lansdale and Truman's Dead Folks rise at Avatar

Avatar Press has announced that it will publish Lansdale and Truman's Dead Folks, a new comic book mini-series featuring the long-awaited return of the highly regarded team of Joe R. Lansdale and Timothy Truman. A three-issue tale of zombies and madness the likes of which only this acclaimed duo can tell, Lansdale and Truman's Dead Folks begins in March 2003 from Avatar Press. The mini-series joins an Avatar schedule which features projects from some of the best creators in comics in the coming months, including Alan Moore, Warren Ellis, and Garth Ennis among others.

"I remember the first time I read Joe R Lansdale: I realized I was not alone," says fellow writer Garth Ennis. "Dead Folks is the man at his best."

Lansdale himself has equally high praise for his collaborator. "Tim Truman is the greatest comic book artist alive," Lansdale says. "He can tell a story better than anyone else with the medium, and I'm excited and honored to have him adapt my work."

"Dead Folks gives me a shiver down my spine in more ways than one," adds Avatar Press editor-in-chief William A. Christensen. "It's a privilege to be working with Joe R. Lansdale and Timothy Truman. I've been a huge fan of their work together, as well as individually. Lansdale of course has an outstanding body of work outside of the industry in addition to his comics work, and Truman is one of those rare creators who has made formative contributions to both the indy and the mainstream sides of the industry with books like Grimjack and Scout and his seminal work on Hawkman. Together, they've produced some of the best comics of the past decade with work such as Jonah Hex and the Lone Ranger. The combination of Lansdale's story and over-the-top dialog and Truman's evocative linework is more compelling than ever, and I'm extremely pleased to see this team together for the first time in years with Lansdale and Truman's Dead Folks."

"I've wanted to illustrate this story for years," Timothy Truman says of the source Lansdale work in its original form, On the Far Side of the Cadillac Desert with Dead Folks. "It is the first story by Joe that I ever read and the first one that I ever approached him about doing -- the story that turned me on to his work and was directly responsible for leading to our long association and friendship. Joe has become a brother in a very real sense, and I've always felt like I owed it to him to attempt an adaptation of the original short story. It's a very straight forward, kick ass story -- a real action movie of a tale."

"I'm so glad to be doing the story in black-and-white! It's actually a real treat for me -- a dream come true, in a way," adds Truman. "My biggest influences were underground comics, Warren magazines (Creepy and Eerie), Savage Sword of Conan (wish someone would give me a shot at THAT character!), European black-and-white comics. With all due respect to the guys who've colored my work over the years, I've only done color comics because I've had to. When I do illustration work for games or books -- and I've done quite a bit -- the work is black and white. Black and white comics are my favorite medium, but I've done precious few black-and-white stories for the market. The only ones that I can think of are a Conan 8-pager that I did years ago for Savage Sword and the piece that I did for the Death By Crowquill CBLDF benefit book. My work looks best in black and white. It's that simple. Aesthetically speaking, I think that unless a cartoonist is coloring the work for himself, then the work is a purer representation of the artist's style when it's done in black and white.

This kick ass, zombie story, action movie of a tale that Truman describes is the saga of a bounty hunter named Wayne -- who has the bad luck to be in the middle of a desert filled with the undead. He still has to bring in his man if he wants to get paid and the dead folks best get out of his way if they know what's good for 'em.

But of course, being dead, they don't.

###