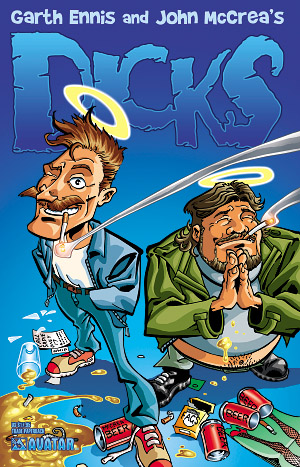 "I never forgot Dougie and Ivor, not once, not even with all the Preachers and Hitmans and Punishers and all the other stuff I've been doing down the years. They remain my all-time favorites of the characters I've written or created-- my pride and joy, the ongoing saga of two idiots from Belfast, by two idiots from Belfast."
-- Garth Ennis
Garth Ennis & John McCrea's DICKS
Writer: Garth Ennis
Artist: John McCrea
Readership: Mature Readers
Format: releases have included Bigger Dicks mini-series, Dicks 2 mini-series, Dicks TPB and the Dicks X-Mas Special
Good lord, it's over 10 inches long and as much as 176 pages thick! Garth Ennis and John McCrea, the creative team behind Hitman, unleash their sick, twisted minds to bring back Dougie and Ivor, the rotten scoundrels who fancy themselves private investigators known as the Dicks. This the super-engorged saga that Garth swears has assured his place next to the Dark Lord in the eternal flames of Hell. No semi-turgid comics here, just full-on, over-the- top, certain-to-offend-everyone humor that only these two bollocks could get away with!

Garth Ennis and John McCrea's DICKS is available now in comic shops and bookstores worldwide. Please support your local stores. If you can't find Dicks locally, you may order it from our direct sales agent here.
Additional Artwork from Garth Ennis and John McCrea's Dicks
Other titles from Garth Ennis
Garth Ennis, John McCrea Return for Dicks 2 at Avatar
Avatar Press has announced that the characters that Garth Ennis calls his favorites of any he's ever created or written come back for more when Ennis and John McCrea resurrect their irreverent pair of private eyes, Dougie and Ivor, for Dicks 2. An all new, self-contained series written by Ennis and drawn by McCrea, Dicks 2 #1 is scheduled for release in September 2002 from Avatar Press.
"I never forgot Dougie and Ivor, not once, not even with all the Preachers and Hitmans and Punishers and all the other stuff I've been doing down the years," says award-winning writer Garth Ennis. "They remain my all-time favorites of the characters I've written or created-- my pride and joy, the ongoing saga of two idiots from Belfast, by two idiots from Belfast."
"Garth Ennis and John McCrea disgust me in new ways every day," adds fellow creator Warren Ellis.
"If the streets are paved with gold, this is the shit on the sidewalk," agrees John McCrea's mum. John himself was not immediately available for comment as he was too embarrassed.
"If the early reaction to this new material is any indication, Dicks is destined to take its place alongside Preacher as one of Garth's most notorious works," laughs Avatar editor in chief William Christensen. "A preview of the cover art of issue #1 alone created a minor scandal at the Bristol convention earlier this year, not to mention the promotional custom-printed Dicks condoms that McCrea gleefully handed out at the convention-- those will be available with a retailer incentive offer, incidentally. But on a more serious note, I'm just pleased that Avatar is playing a part in getting the continuing adventures of Garth and John's favorite creator-owned characters out to their fans with this brand new, stand-alone epic."
As Ennis implied above, this new beginning for the Dicks has been a long time in the making-- over a decade, in fact. Dicks protagonists Dougie and Ivor first appeared and began to take shape in Troubled Souls, a story first serialized in seminal British anthology Crisis in early 1989, putting it among the earliest professional works of both creators. Dougie and Ivor's antics took center stage in the 1990 sequel titled For a Few Troubles More. The first actual Dicks series appeared in 1996 and was brought back into print with new material by Avatar as Bigger Dicks in early 2002. Dicks 2 will feature all new material in a self-contained, new-reader-friendly saga of the further adventures of Dougie and Ivor.