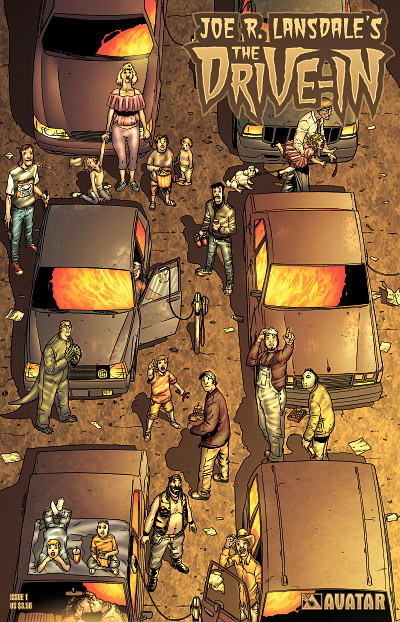 Joe R. Lansdale's
THE DRIVE-IN
Creators: Joe R. Lansdale, Andres Guinaldo, and Chris Golden
Covers: Jacen Burrows
Format: B&W, 32 pages, monthly, 4 issue mini-series

Joe Lansdale's Bram Stoker and World Fantasy award nominated epic of insanity finally comes to comics, 10 years in the making! The original novel has a huge cult following as it personifies the best in Lansdale's writing, and this comic adaptation is true to the original -- it's undiluted, unaltered Lansdale at its finest adapted by top scribe Chris Golden (BUFFY THE VAMPIRE SLAYER). When a group of friends decide to spend a day at the world's largest Drive-In theatre horror fest, they expected to see bloody murders, rampaging madmen, and mayhem -- but only on the screen. As a mysterous force traps all the patrons inside the Drive-In, the worst in humanity comes out. Filled with Lansdale's razor sharp whit and black humor, The Drive-In is a darkly humourous masterpiece! For fans of Garth Ennis, Joe Lansdale will be just what you are looking for and this series is further enriched by the stunningly detailed art of Andres Guinaldo and covers by superstar artist Jacen Burrows.
Additional Artwork from Joe Lansdale's The Drive-In
Read more about
Lansdale's The Drive-In Opens at Avatar Press

Avatar Press has announced that it will publish Joe R. Lansdale's THE DRIVE-IN, a new comic book mini-series featuring the collaboration of Lansdale (JONAH HEX, DEAD FOLKS), Chris Golden (BUFFY THE VAMPIRE SLAYER), and Andres Guinaldo. A twisted mixture of terror and dark humor the likes of which only Lansdale can brew up, Joe R. Lansdale's THE DRIVE-IN is a four-issue mini-series from Avatar Press with covers by Jacen Burrows (WARREN ELLIS' SCARS, ALAN MOORE'S THE COURTYARD).

"No one in the world writes like Joe Lansdale. Nobody," says his collaborator on this project Chris Golden, "From the beginning of his career his voice has been fascinatingly unique. And he's more than a little weird. He'd have to be, to come up with a concept as nasty and funny and twisted as THE DRIVE-IN.

"I'm very excited about this comic book adaptation, both script and art," adds THE DRIVE-IN creator Joe R. Lansdale. "A great combo of talent for what is one of my more unique works. One that over the years has acquired a strong cult following. I'm grateful for that, and I hope the comic edition will further interest readers in the original, and that this version will be received with the same enthusiasm."

"If you've ever read any Lansdale, or really even read any reviews of his work, it's easy to understand why he has such an affinity for comics," notes Avatar Press editor in chief William Christensen. "People talk about his outrageous ear for dialog, his skill with pacing, an imagination that can be both scary and darkly funny, and that modern sort of Texas pulp voice. But really, the man was simply born to tell these certain kinds of stories, and as it turns out the comics medium is one very good way to help him do that. It's kind of like if Stephen King and Alan Moore had grown up in the same family, Joe would've been one of the other brothers. The way he's wired lets him do what he does better than just about anybody. The Drive-In is a prime example of the Lansdale mojo at work."

Joe Lansdale's Bram Stoker and World Fantasy award nominated epic of insanity finally comes to comics, 10 years in the making! The original novel has a huge cult following as it personifies the best in Lansdale's writing, and this comic adaptation is true to the original -- it's undiluted, unaltered Lansdale at its finest adapted by top scribe Chris Golden (BUFFY THE VAMPIRE SLAYER). When a group of friends decide to spend a day at the world's largest Drive-In theatre horror fest, they expected to see bloody murders, rampaging madmen, and mayhem -- but only on the screen. As a mysterous force traps all the patrons inside the Drive-In, the worst in humanity comes out. Filled with Lansdale's razor sharp whit and black humor, The Drive-In is a darkly humourous masterpiece! For fans of Garth Ennis, Joe Lansdale will be just what you are looking for and this series is further enriched by the stunningly detailed art of Andres Guinaldo and covers by superstar artist Jacen Burrows.

Joe R. Lansdale's THE DRIVE-IN is a four issue mini-series beginning in October 2003 from Avatar Press. The project features story by Joe R. Lansdale, sequential adaptation by Chris Golden, artwork by Andres Guinaldo, and covers by Jacen Burrows. For more information, contact Avatar Press editor-in-chief William Christensen at william@avatarpress.net or see our website at www.avatarpress.com.

###