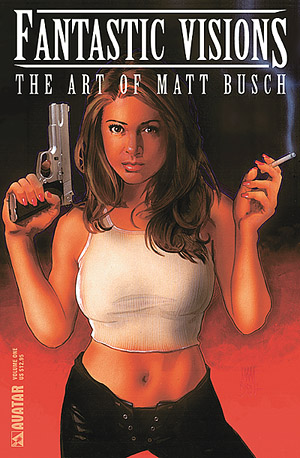 Fantastic Visions variant cover
FANTASTIC VISIONS: The Art of Matt Busch
Retail Price: $12.95 US
Cover: Matt Busch
Artwork: Matt Busch
Readership: All ages
Format: B&W with full color section, 104 pages
Star17793

Matt Busch has emerged as one of the top Entertainment Illustrators of the last decade. He has worked on movies like Con Air and The Matrix, painted covers for dozens of Star Wars books and magazines, and done album artwork for artists like the Beastie Boys and Garbage. He also teaches art and manages to do comic covers and trading cards as well! All told, he has amassed a stunning list of achievements and credits to his name, and this is the first collection of his work ever! This luscious square bound book features over 100 of his paintings, sketches, and drawings in both black and white and full color. It also features the most extensive interview ever done with Busch as he covers his entire career. For fans of painted artwork and artists looking for a glimpse inside the mind of an artistic genius, this book is a must!

Fantastic Visions is in print and available now at your local comic shop and book store. Please support your local stores. If you can't find Fantastic Visions locally, you may order it from our direct sales agent here.