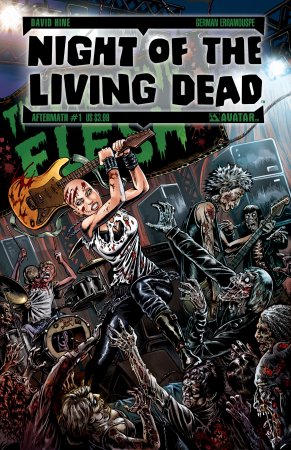 Will Halloween be the Day of the Undead at your local comic shop?
This year, Halloween falls on comic fans' favorite day of the week: Wednesday (aka "New Comic Day"). Avatar Press feels there is no better time to launch their new on-going series,?NIGHT OF THE LIVING DEAD: AFTERMATH to help celebrate with some?ghoulish?fun! Set 12 years after the initial outbreak in the classic first?movie, this series is written by long-time horror writer,?David Hine (Crossed: Badlands, The Darkness, Spawn) and promises to be faithful to the cult-classic movies, while taking the series in all-new fresh territory.
Many comic shops will be hosting NOTLD-themed Halloween parties, featuring costume contests, prizes, giveaways and other scary Halloween treats. Ask your favorite comic shop if they will be participating in all the fun!
If you are a retailer: Let Avatar Press know you will be hosting a NOTLD party and they will help promote your store event! Send all press releases to Avatar Press?Director of Marketing, Rick Verbanas,?at?rickverbanas@gmail.com by 10/30/12.
In addition,?Avatar Press is?having a?Retailer Contest, with loads of NOTLD merchandise to be given away to the top three retailers who have the best displays and/or events! Contact Rick Verbanas for all the details at?rickverbanas@gmail.com. Deadline to enter the contest is 11/09/12.
It?doesn't?take BRAAaaaiiinnnnssss to figure out hosting a NOTLD party on Halloween will be fun for everyone!