New Avatar Comics in shops on 8/7/13:
ALAN MOORE'S FASHION BEAST TP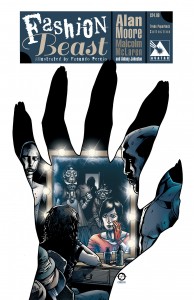 PRODUCT DESCRIPTION: ALAN MOORE has redefined the graphic novel with his seminal works ? Watchmen, V for Vendetta, From Hell, and Neonomicon are essential to any readers discovering the comic book medium.? At long last, Moore?s time lost masterpiece is presented in deluxe trade paperback and hardcover collections of the complete ten issue Fashion Beast series.? Doll was unfulfilled in her life as a coat checker of a trendy club. But when she is fired from the job and auditions to become a ?mannequin? for a reclusive designer, the life of glamour she always imagined is opened before her. She soon discovers that the house of Celestine is as dysfunctional as the clothing that define the classes of this dystopian world. This unique reimagining of Beauty and the Beast was written in 1985 alongside Alan Moore?s comics masterpiece Watchmen. Beautifully illustrated by Facundo Percio (Anna Mercury) and meticulously adapted by Antony Johnston (Yuggoth Cultures), this is another must have entry in the graphic novel masterworks library by Alan Moore.
CROSSED VOL 6 TP: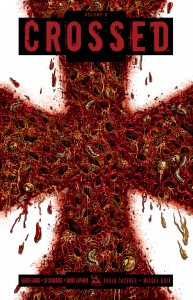 PRODUCT DESCRIPTION:? In a volume that spans several eras of Crossed infection, we join three prolific writers each telling a tale set in the horrifying misery of the world during the plague.? Series creator GARTH ENNIS returns to tell a story so big that it re-defines the way you will see the Crossed.? In ?The Fatal Englishman? the last military unit in Britain faces the biggest question of them all – when do you risk eliminating all life to stop the Crossed!? SIMON SPURRIER puts us in the mind of a unique Crossed relationship, one which sees lovers from two different worlds as they are driven apart by infection.? DAVID LAPHAM continues fan-favorite Crossed Psychopath survivor, Amanda?s tale as she fights with the rising insanity in her own mind and a group of lunatic scavengers in ?The Livers.?? Go where other horror survival stories fear to tread and enter the grueling world of the Crossed!? This volume collects issues #19-28 of the Crossed Badlands series.
GEORGE RR MARTIN SKIN TRADE #2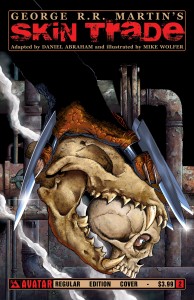 PRODUCT DESCRIPTION: ?Randi Wade is on the trail of something deadly, but with all the clues pointing to the impossible, she has to question her sanity.? Can the murders be the work of something more than human?? And why are victims turning up flayed alive?? Werewolves are real and Randi Wade is finding out that in their underworld existence you?re either a hunter or the prey.? GEORGE RR MARTIN?s World Fantasy Award winning story, Skin Trade, howls into comics with his unique mixture of innovative creativity and subtle creeping horror.? Available with Regular, Wraparound, Grisly and Skinned Retailer Incentive covers by series artist Mike Wolfer.
CROSSED: BADLANDS #34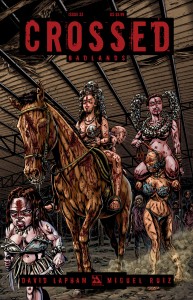 PRODUCT DESCRIPTION: Amanda is lost. Her strength came from the insanity she embraced but when the Crossed take the companions of Base M from her, she slides into a misery laced schizophrenia that threatens to destroy her as surely as the infected. With visions of Lorre haunting her and a tribe of freakishly religious Crossed on the rampage, she slips down a dangerous slope into a desperate state. And when survivors find her, they think she is one of them, but she?s far worse than they can imagine. DAVID LAPHAM has once again unleashed a horrific story that will leave you scarred forever. Available with a Regular cover by Raulo Caceres, Torture & Wraparound covers by Gabriel Andrade, and a special Red Crossed Incentive also by Caceres.