The following Avatar Press comics are new to ComiXology on Wednesday 1/22/14:
Same Day as Print:
Crossed: Badlands #45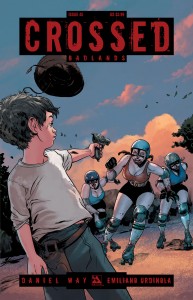 PRODUCT DESCRIPTION:? DANIEL WAY continues his tale of Crossed misery as the survivors take their sea voyage to an island in hopes of finding sanctuary.? But the Captain?s carefully considered plans may lead them from a desolate life upon the water to a violent and bloody grave on land.? And the first shot fired may not be from a berserker, but from one of their own.
New to digital:
Dan the Unharmable #1 – 6
PRODUCT DESCRIPTION: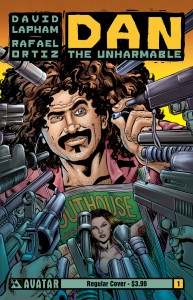 Eisner Award winning writer David Lapham delivers a fresh punch to the face with this series about crime, family, and being a lazy, yet invulnerable, private detective. Dan is something of a hired man. Whatever one needs doing, be it detective work, muscle work, blackmail work, or bedroom work – Dan's your man. Dan's not afraid of anything because Dan's totally unharmable. You can beat him with sticks, stick him in the oven, throw him off a bridge, or shoot him in his noggin its all the same to Dan. He's never met an insult that bothered him or a person he cared about?at least for more than a night. Dan prefers not to be shackled down by worldly goods. He works for just enough dough to keep him in cigs and beer for a night or two, maybe a room, and he's content. Dan's bohemian paradise is all about to change, however. You see, back before Dan was so unharmable he left a few loose ends. Now those loose ends are growing up and their mother's been murdered, which not only means that Dan has to solve his most personal case yet, he's now legally responsible for four human beings who are anything but unharmable…. Dan the Unharmable by noir legend, David Lapham and featuring art by Rafael Ortiz.
Doktor Sleepless #6 – 10
PRODUCT DESCRIPTION: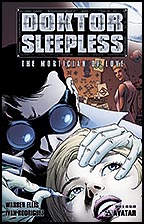 People are getting sick. People are developing… defects. Lumps. Strange anomalies in their Grinder gear. You might almost call them "mutations." This town needs a doctor. Unfortunately, there's only Doktor Sleepless here — and it might be all his doing… Warren Ellis' satirical-political science fiction novel continues it's crazed tale of madness.