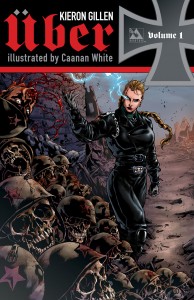 Kieron Gillen and Caanan White surprised the comic book reading community last year with a new series that removed the fantasy and shiny exterior of stories told in the altered history and super soldier genres. ?What they created is an apocalyptic vision of a miserable world conflict that became horror on a global scale.
Now…one year later, the first chapter of this revolutionary series is collected in Trade Paperback format for all to read. ?Uber Volume 1 TPB introduces us to the waning hours of World War II when the delivery of Nazi super weapons changes the course of the world forever. ?With the arrival of the Ubers, what should have mercifully come to a close begins anew and the violence grows to epic proportions. ?Uber is a nightmare world that shows us just how far a madman can go when his insanity is fueled by unstoppable monsters.
Gillen fans have waited patiently for this tome to be released. ?On Wednesday March 26th their patience will be rewarded as local comic shops introduce the first chapter in a horrifying new history of world war. ?The Ubers are here.