New Avatar Press items to comic shops Wednesday 6/18/14:
Dicks Vol 2 TP
PRODUCT DESCRIPTION: ? ? You?ve never met two men more crude and down-on-their-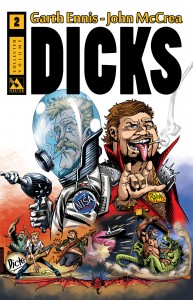 luck than Dougie and Ivor! Following their first explosive foray into private investigation, they turn tail and pursue a different childhood dream: taking the world by storm as rock stars. But in true Dicks fashion, the music industry?s rife with hedonists and criminals, all out to get the boys from Belfast. Will our favorite scoundrels survive their celebrity with their most precious body parts intact? GARTH ENNIS and JOHN MCCREA, the creative team behind Hitman, deliver their unique brand of over-the-top violence and certain-to-offend humor, just the way you like it! This volume collects Dicks #5-10.
Visit the Comic Shop Locator Service to find a comic shop near you: ?http://www.comicshoplocator.com/Home/1/1/57/575