New Avatar Press comics coming to comic book shops on Wednesday 10/8/14:
Caliban #7
PRODUCT DESCRIPTION: ? ? ?The final issue of the Caliban crew?s frightening story delivers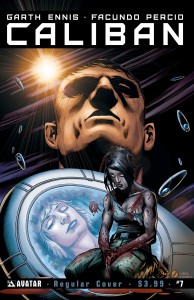 a devastating conclusion! Fans have called GARTH ENNIS and FACUNDO PERCIO?s Caliban ?the best horror sci-fi since Alien? and the tale has lived up to the hype.?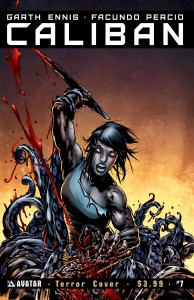 Down every alien corridor a hybrid of human and extraterrestrial horror waits to slaughter the unsuspecting.? Human kind is all too trusting of the dangers hidden in the limitless depths of space.? Now their mistake will usher in a new era of fear and misery unlike anything they?ve ever known.?? No one is safe in dead space.?? Available with Regular, Wraparound, Terror, and Design Sketch Incentive covers by Facundo Percio and an ultra-limited Dark Matter edition of just 1000 copies.
Crossed: Badlands #63
PRODUCT DESCRIPTION: ? ? ?Crossed Master Scribe, DAVID LAPHAM returns to his crime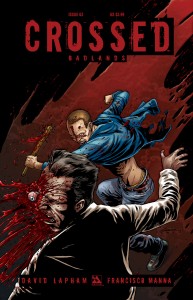 drama roots to tell a Crossed story of being pushed to the breaking point.? Mr. Land was a normal father with teenage daughter and a young son.? But his life was turned into a miserable horror long before the Crossed plague hit thanks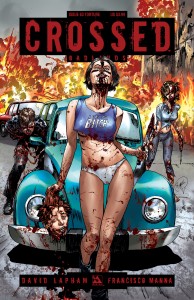 to a despicable pornographer and killer.? After the death of his daughter he became something else, something more deadly than the maniacs that inherited the earth.? And now he lives for one thing.? Revenge.Available with Regular and Red Crossed covers by Gabriel Andrade,Torture cover by Rafa Ortiz, Wraparound cover by German Erramouspe, and a Fatale Fantasy cover by Emilio Laiso.
Dicks End of Time #5
PRODUCT DESCRIPTION: ? ? ?Dougie and Ivor are men on a mission.? They are out to save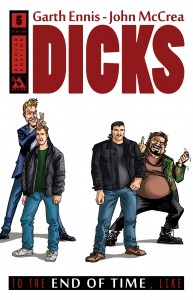 everyone in history from the greatest evils and in the process, insult every comic book reader with the most hilariously offensive antics ever published.? But all of their old foes are gathered against them, how can they hope to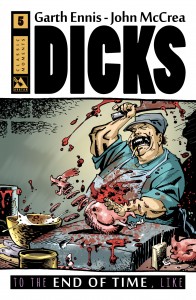 defeat the Dong and the Ballacks before the Pope dies in the most horrific of ways?? You'll never know without reading ?Dicks: End of Time!? Available with Regular, Offensive, and Classic Moment Incentive covers by series artist John McCrea.
Extinction Parade: War #4
PRODUCT DESCRIPTION: ? ? New York Times Bestselling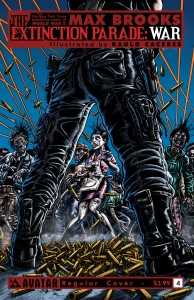 Author, Max Brooks delivers a scathing commentary on the privileged lives of vampires in this blood-soaked new chapter in the horror event of the year!At long last the parasitic vampire race has begun to act of its own accord against the rising tides of the subdead hordes.? Taking up swords, and guns, and fists they have amassed an Army of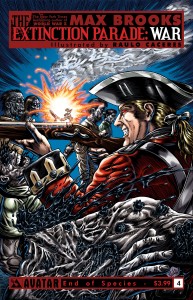 the Bloodlines.? And as each devastatingly powerful vampire adds their distinct prowess to the fight, the destruction of the enemy becomes almost within their grasp.? Available with Regular, Wraparound, End of a Species, Leather (limited to just 1000 copies), and Bloodwashed and Pure Art Retailer Order Incentive covers, all by series artist Raulo Caceres.
George RR Martin's In the House of the Worm #3
PRODUCT DESCRIPTION: ? ? ?The biggest name in fiction, GEORGE RR MARTIN, delivers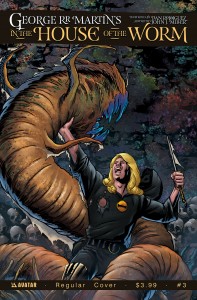 one of his seminal works to the pages of comic books with In the House of the Worm!? This classic science fiction fantasy tale will appeal to fans of Game of Thrones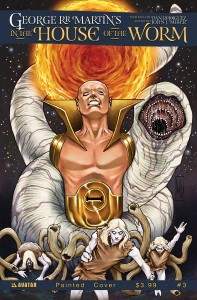 and Martin?s list of unforgettable novels.? On a lost planet a privileged boy learns that destructive creatures and plots of revenge populate this fantastically fearful world of horror.? Available with Regular, Wraparound, Regal Incentive covers by series artist Ivan Rodriguez and a painted cover by Michael Dipascale.
God is Dead #22
PRODUCT DESCRIPTION: ? ? ? Thunderbolts fly and mountains shake beneath the onslaught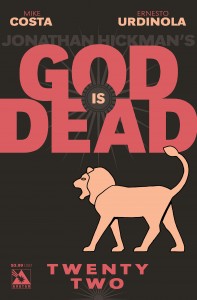 of divine vengeance.? Mankind is stuck in the middle as the very forces of existence begin to pit vast human, but immortal, armies into brutal endless combat.? With the secrets of human ascension to godhood long lost, is there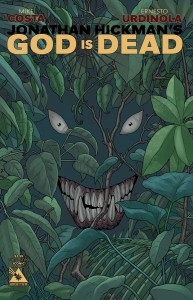 anything or anyone that can lead mortal man out of the new darkness? Available with a Regular, End of Days, and Iconic covers by Jacen Burrows, a Carnage Wraparound cover by German Nobile, and a special Gilded Retailer Incentive Cover also by Burrows.
War Stories #1
PRODUCT DESCRIPTION: ? ? ? Garth Ennis' War Stories find a new home at Avatar with the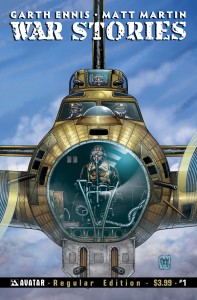 launch of this ongoing monthly!?? Pulling tales from real conflicts throughout modern history, this series is where a master storyteller brings the horrors of war to life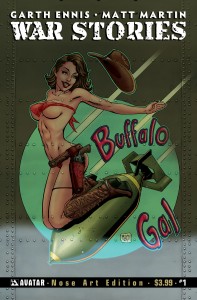 in comics.? Ennis travels the timeline to pull some of the most harrowing tales of valor and bloodshed from history?s most violent battles with his trademark wit and spot-on dialogue to show the humanity within the inhuman horrors.? The first story is Castles in the Sky, a tale of early bomber pilots and their incredibly difficult missions. Available with Regular, Wraparound, Good Girl Nose Art, and Battle Damage Retailer Incentive covers by Matt Martin.
Visit the Comic Shop Locator Service to find a comic book store near you -?http://www.comicshoplocator.com/Home/1/1/57/575