Ever wonder what an Avatar Christmas story would be like?  The family nestled around the tree while visions of Crossed maniacs danced in their heads.  Now you can tell for yourself by carving out some time to catch up with the most shocking horror series being published.  Garth Ennis created a world of grueling nightmares with Crossed.  You can experience the uncensored horror of his vision with these Ennis' penned trade paperbacks which are available at your local comic shop:
Crossed Vol 1 TP:
PRODUCT DESCRIPTION:      Imagine, for a moment, the worst crimes against humanity.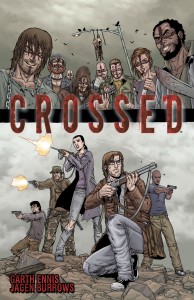 Picture the cruelest affronts to decency. Conjure your darkest nightmares… and then realize it could all be so much worse. When civilization crumbles in one terrifying moment; when people are gleefully breaking into unthinkable acts of violence all around you; when everyone you love has died screaming in agony: What do you do? There is no help. There is no hope. There is no escape. There are only the Crossed. Garth Ennis has pulled out all the stops to write the most depraved and twisted book of his career, one that also may be his most poignant human drama! Crossed is Ennis' horrifically visceral exploration of the pure evil that humans are truly capable of indulging and collected here are all ten heart-stopping chapters. This gut-wrenching vision is brought to vivid (and more than a little disturbing) life by his partner in crime Jacen Burrows.
Crossed: Badlands Vol 4 TP
PRODUCT DESCRIPTION:      Two tales of terror from the most vicious landscape in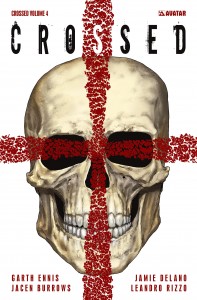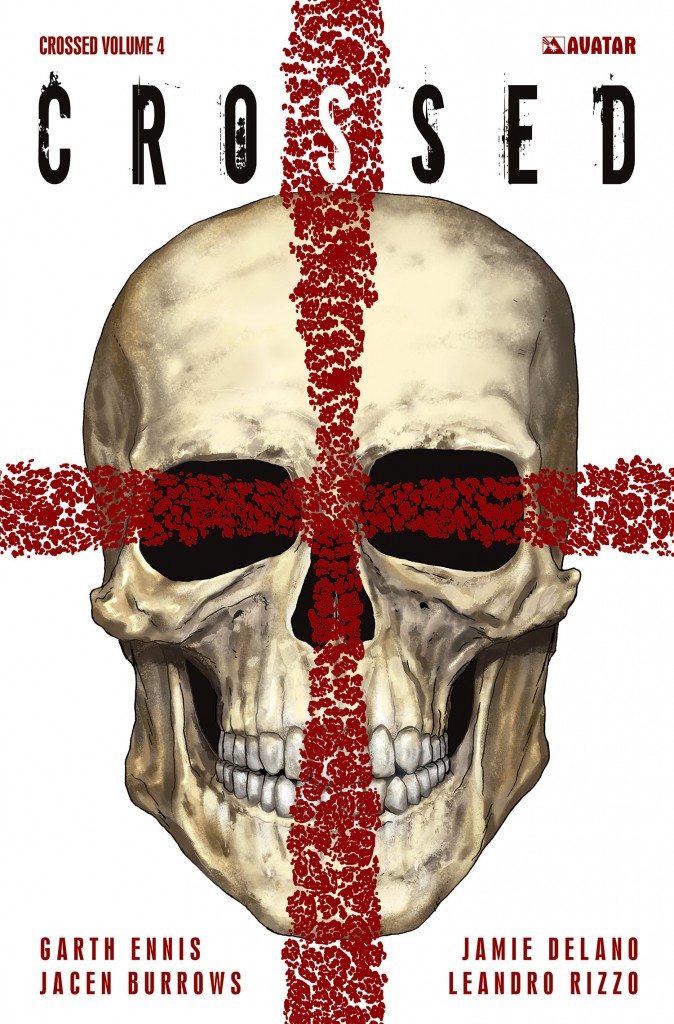 modern horror, written by groundbreaking graphic novelists Garth Ennis and Jamie Delano! When the worldwide outbreak transforms most of humanity into murderous psychopaths, the uninfected survivors are driven by desperation to the very brink of sanity and morality. In the United Kingdom, a young man devastated by the traumatic death of his wife struggles to survive the roving bands of Crossed at his heels. Meanwhile, three small groups of survivors in the marshy Florida Everglades – haunted by personal demons, driven by primal fears and all-too-human desires – find themselves on a collision course guaranteed to leave bloody, fiery destruction in their wake…
Crossed: Badlands Vol 6 TP
PRODUCT DESCRIPTION:       In a volume that spans several eras of Crossed infection, we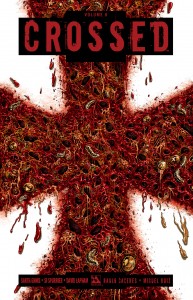 join three prolific writers each telling a tale set in the horrifying misery of the world during the plague. Simon Spurrier puts us in the mind of a unique Crossed relationship, one which sees lovers from two different worlds as they are driven apart by infection. David Lapham continues fan favorite Crossed Psychopath survivor, Amanda's tale as she fights with the rising insanity in her own mind and a group of lunatic scavengers in "The Livers." And series creator Garth Ennis returns to tell a story so big that it re-defines the way you will see the Crossed. In "The Fatal Englishman" the biggest question in the Crossed universe is answered… how it all begins. Go where other horror survival stories fear to tread and enter the grueling world of the Crossed! Trade collects issues #19-28 of the Crossed Badlands series.
Crossed: Badlands Vol 10 TP
PRODUCT DESCRIPTION:      Garth Ennis returns to the horrifyingly brutal world he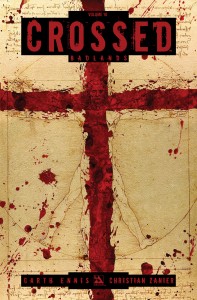 created with a story that fans have waited over five years for! The Crossed outbreak created a miserable, grueling world of monsters that dash out all hope of survival and ensures a terrifying end to everything in their path. For the first time, master storyteller Garth Ennis takes you back to the early days of outbreak and delivers the unexpected – a Patient Zero tale. With the outbreak spreading like wildfire across the globe, a group of soldiers attempt to piece together how the disease spread so quickly and to reverse the horror they see taking place in the streets. And as they struggle to catch up with events, a plane carries the extinction of the human race toward its target to trigger the nuclear destruction of the world. In a world where there is no help and there is no hope… there is only the Crossed. Collects issues #50-56 of the ongoing Crossed: Badlands comic book series.