This is the new Avatar Press comic coming to digital on ComiXology this Wednesday 4/1/15:
War Stories #7
PRODUCT DESCRIPTION:      "When I was a little girl, my mother told me tales of knights in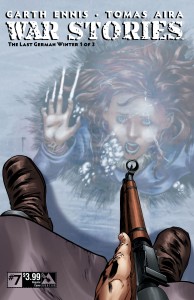 shining armour, who would save damsels like me from dragons and other monsters…" February 1945: as the Soviet war machine crashes into eastern Germany on a tidal wave of carnage and revenge, a mother and her children join the flood of refugees struggling to stay ahead of the invaders. But the realities of battle are dreadful to behold, and what the little family find waiting for them is deadlier than any mythical dragon. Worse still, the strange figures who appear from the deep woods are far from being knights in shining armour- and in these dark times, the price of salvation may just be too much to bear. A dark tale of conflict and its consequences, by Garth Ennis and Tomas Aira: part one of The Last German Winter.