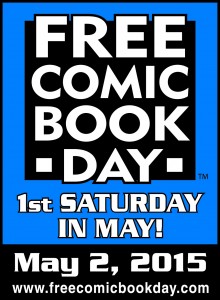 Comic fans have a special treat tomorrow at Free Comic Book Day programs across the globe as Kieron Gillen's newest ongoing sci-fi series will premiere with a free Mercury Heat Debut FCBD Edition!  The all-original series brings Gillen's incredibly imaginitive and powerful narratives from stories like Uber, The Wicked and the Divine, and Star Wars: Darth  Vader to a new world of cyborgs and assassins.  Mercury is like the wild west – and its going to take a tough agent to bring these future ruffians to justice.  Check out this first chapter of the incredible new series at your local comic shop tomorrow!
Find a comic shop near you that is participating in the event at:  http://www.freecomicbookday.com/storelocator
Mercury Heat Debut – FCBD  2015 Ed
PRODUCT DESCRIPTION: Kieron Gillen blasts into Free Comic Book Day with an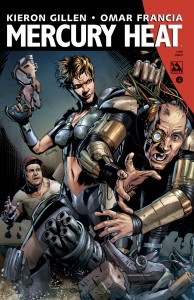 exclusive preview introduction to his all-new sci-fi series, Mercury Heat! Over the last few years, Gillen's work has gained a massive following from titles like Uber, The Wicked and the Divine, and Iron Man. Now Gillen takes you to Mercury, a slow turning planet where you can outrun the sunrise. Along with the blistering heat it brings. This is the new frontier of space, where humanity's insatiable need for energy is being fueled by Mercury. It's a tough environment and it attracts a rough crowd. So Luiza is bringing her own heat as a cop on Mercury, since she's just a bit too intense to be one on Earth. This special issue features the first chapter of this ongoing saga, a special introduction to the World of Mercury Heat, and a look at the ships, designs, and making of this epic. The future is here with this primer and first chapter of 2015's biggest sci-fi title!