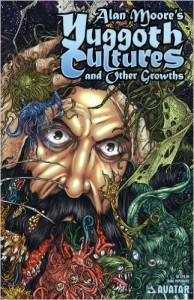 Fans are enjoying Alan Moore's new horror series, Providence, as it slowly reveals the creeping horrors of Lovecraft that it was inspired by.  Many have read the previous series, Neonomicon, and have enjoyed these trips into the world of unseen horrors with the master of the comics medium.  But some fans have missed the initial foray into Lovecraft inspired horror in the form of the massive Yuggoth Cultures and Other Growths TPB which Moore wrote.  This is a massive 312 page volume contains comics and prose stories from Alan Moore which fit perfectly with the horrors being delivered in Providence.
PRODUCT DESCRIPTION:  Yuggoth Cultures and Other Growths features tons of Alan's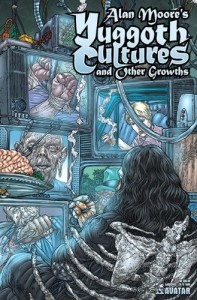 classic short sequential comic book stories that have been long out of print, stories that have never before been seen and special developmental sections with original script pages and comments from Alan and the creators. This massive volume also has an extensive interview with Moore as he discusses Yuggoth Cultures, the stories inside and some of the amazing tales the lead to their creation as well as the real magic behind the works. As if that wasn't enough, Antony Johnston's work inspired by Yuggoth Cultures and the worlds of H.P. Lovecraft is included and features all-star art by Juan Jose Ryp, Jacen Burrows, Dheeraj Verma and many more along with copious notes on the Lovecraftian origins of the tales.
Ask your local comic shop to get a copy of this tome for you or find it on Amazon to complete your Alan Moore collection.  Also available as a collector's hard cover edition.