This is the new Avatar Press digital item coming to ComiXology on Wednesday 9/23/15:
War Stories Vol 2 New Edition
PRODUCT DESCRIPTION:      A new re-mastered edition of the second volume of the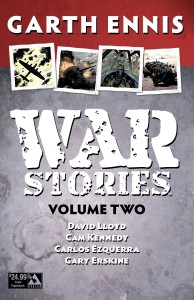 original War Stories, written by Garth Ennis (Preacher, Crossed, The Boys) and featuring art by some of comics' all-time greats. Volume 2 features:
J for Jenny
Drawn by David Lloyd (V for Vendetta). The nightly operations of an RAF Lancaster bomber are dangerous enough, but discord among the crew could mean their end.
The Reivers
Drawn by Cam Kennedy (Rogue Trooper). In the western desert, an SAS patrol wreaks in night-time raids against German units- but their leader holds a dark secret all his own.
Condors
Drawn by Carlos Ezquerra (Judge Dredd). During the brutal Spanish Civil War, four soldiers from four different armies find they have a lot in common- but not quite enough to end the conflict.
Archangel
Drawn by Gary Erskine (Dan Dare). A down on his luck RAF pilot runs afoul of his commanding officer, and ends up "volunteering" for a terrifying one-way trip.
Features an afterword by Ennis in which the real-life inspiration for the stories is revealed.