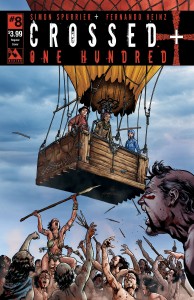 It's a Crossed week in local comic book shops as issues of the ongoing Badlands series and the Alan Moore created +100 are on shelves.  Ever since the first issue of Crossed debuted, fans have flocked to the series that provides the most horrifying uncensored look at a post apocalyptic future.  This week fans can pick their poison with stories from the modern Crossed world or the far flung future 100 years after C-Day.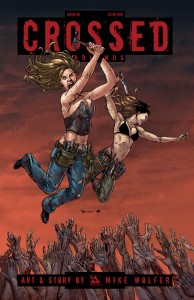 Crossed: Badlands #85:     As the procurement team from the bridge reach their goal of the Pharm-Rite drug store and face the unthinkable horrors awaiting them, the alliances of those they left behind with newcomers Morgan and Olivia begin to erode. Following the "gospel" of the women's survival guide, the survivors on the bridge and on the ground find their once sound confederacy unraveling. But which is worse- The maniacal, natural urges of the Crossed, or cold, calculated murder by someone who is uninfected?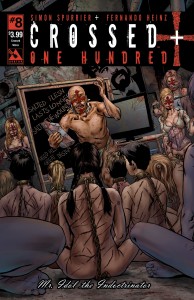 Crossed +100 #8:  Simon Spurrier continues to deliver a dire new tale based on Crossed100n8-Regularthe extensive world-building notes from Alan Moore! A few years after the events of the first Crossed +100 arc, Future attempts to prepare the people of Murfreesboro for the horrors she saw. But an exploratory balloon ride to the outlying settlements provides an ominous warning that the relative peace that the surviving humans managed to scrape together has begun to crumble.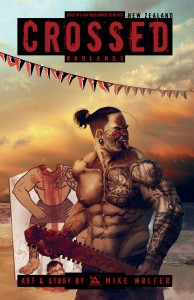 Every nuance of this series has been inspired by the masterfully detailed outlines of Alan Moore.
And for even more Crossed – don't forget to visit ComiXology before 9/20 to catch up on digital issues for a fantastic 7th Anniversary price – Crossed digital back issues for $.99 or a massive 108 comic library for $79.99   https://www.comixology.com/Crossed-Anniversary-Bundle/bundle/1075