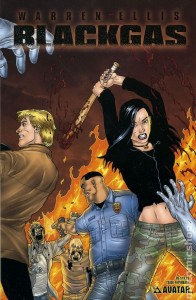 If you are out and about today on Black Friday, I'm sure you feel quite a bit like a zombie, shambling store to store in a crowd of similarly comatose shoppers.  So what better way could there be to unwind after fighting the masses for the best deal, than by stopping at your local comic shop and picking up a copy of Warren Ellis' classic zombie tale – BlackGas.
When a tiny island off the East Coast of America experiences a massive storm, a crack in the fault line causes the expulsion of something foul from within the earth itself.  Soon the little town of Smoky Island is overrun by infected creatures.  And when the military seeks an ultimate solution, they may very well doom the entire world.
This is zombie horror at its very best.  Check out Warren Ellis' take on the horror of infection and enjoy a scary yarn to cap off your Black Friday shopping.