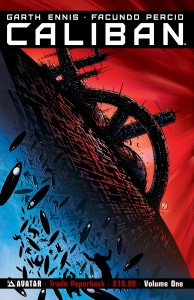 Very few movies or comics have been able to capture the tension and claustrophobic horror of Ridley Scott's classic, Alien.  But for sci-fi fans who yearn for a story that harkens back to that dire and desperate feeling of helplessness and paranoia, Garth Ennis perfectly reinvents the mood and desolation in his original take on horror in space.  In the pages of Caliban we encounter an Earth mining ship that is on a routine trip into the cosmos in search of raw materials.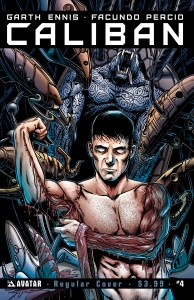 The crew is all too nonchalant about the wonder of hurling through space faster than light and in no way prepared for the horror that waits for them in the vastness of the universe.
If you have not read this incredible self contained trade paperback story, get to your local comic shop, order on Amazon, or visit www.comcav.net to find a copy and experience a true horror masterpiece.  This is one of the must-read books of the past year and it is also a very accessible title to give as a gift to the horror comics reader in your life.