These are the new Avatar Press digital items coming to ComiXology on Wednesday 12/30/15:
Freakangels Vol 1 GN
PRODUCT DESCRIPTION:      Warren Ellis' hugely popular web comic, Freakangels, is here,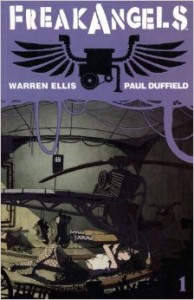 collected in this gorgeous, full-color series! Twenty-three years ago, twelve strange children were born in England at exactly the same moment. Six years later, the world ended. This is the story of what happened next. So welcome to Whitechapel, some years from now, just barely above ground in a flooded England, where a clan of eleven strange people with purple eyes – the Freakangels – have carved out some sort of a life for themselves. A life that starts to show big cracks when a girl called Alice from Manchester turns up with a shotgun and a grievance, having met the lost, prodigal last Freakangel, who had very different ideas about what they should do with themselves and this flooded future England. Because the Freakangels have a big secret: Something very bad is their fault.
Code Pru #1
PRODUCT DESCRIPTION:     Garth Ennis and Raulo Caceres bring you a black humor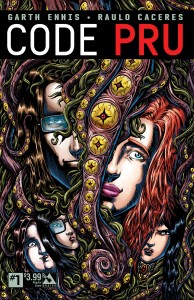 horror book unlike anything you've read! Pru wanted nothing more than to join the FDNY and help people as a paramedic. However, that was not to be, as she gets assigned to a special unit that tends to the monsters that live in modern day New York. Vampires, zombies, ghouls and all the creepy things that live around us in he shadows. But no one told her that was her assignment. Learning on-the-job is much more challenging with the supernatural! This series is a lead-in to the ongoing monthly Code Pru stories running in an anthology to be announced shortly! Raulo Caceres' art never looked better than in the luscious black and white of this series.
God is Dead #46
PRODUCT DESCRIPTION:       Millennia of plotting and planning and manipulation have put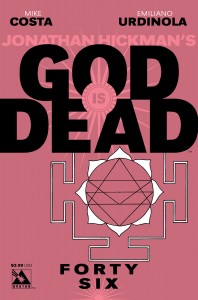 Satan back on top. Not only was he responsible for destroying the world but he also guided the stories that would ultimately unleash the gods again on an unsuspecting new world. Now as his devious plans come to their ultimate fruition, can anyone guess what his real
motivation is behind the new wave of horror being unleashed? Only the Great Deceiver knows as the return of the Christian God continues to wreak havoc upon the lesser pantheons and humanity itself. Join scribe Mike Costa in the most original mythology mash-up ever published with the newest issue of God is Dead!
Mercury Heat #6
PRODUCT DESCRIPTION:      Kieron Gillen's bombastic new sci-fi epic delivers a full force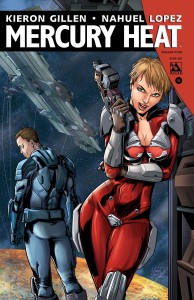 first story arc finale! Luiza has stumbled into a much bigger conspiracy than she could have imagined. Cybernetic criminals and enhanced mob bosses are just the tip of the iceberg in the boiling cauldron of Mercurian violence. Now
one woman who always wanted to be something other than the neuro profile she was assigned must use her unique penchant for viciousness to bring these untouchables down.
War Stories #15
PRODUCT DESCRIPTION:      Momentous news changes everything for the pilots on Iwo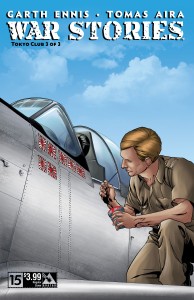 Jima, and a dangerous new program of missions soon brings heavy casualties. With the end of the war apparently in sight, each man needs his luck to last just that little bit longer- but with the enemy determined to fight to the
finish, who will be left when the guns fall silent? The final part of The Tokyo Club, by Garth Ennis and Tomas Aira.