These are the new Avatar Press items coming to comic shops on Wednesday 2/3/16:
Crossed: Badlands #93
PRODUCT DESCRIPTION:      Fan favorite character Smokey and screenwriter Christos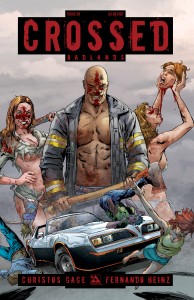 Gage returns to the pages of Crossed with a brand new arc!  Survivalists are seen as kooks with too much money and too little sense. Having an impenetrable underground bunker allows you to ride out all sorts of disasters – floods, war, pestilence… but in a Crossed world there is no safety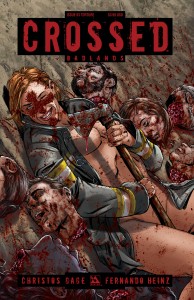 regardless of the preparation. When the SHTF you have no help and no hope.  It only gets worse when Smokey and his Bandits roll into town!  Available with Regular & Torture Cover by Christian Zanier, Wraparound  by Raulo Caceres , C-Day Worldwide Cover by German Nobile, Art Deco Cover by Michael Dipascale, and Red Crossed Incentive Cover also by Zanier.
Code Pru #2
PRODUCT DESCRIPTION:     That which lurks in the shadows has a name. Spoken only in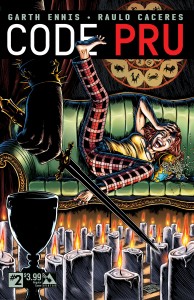 hushed whispers, tremble in fear at… Squidpump. Pru and her friends are trying to find their way in New York. The same problems we all face, demonic rituals gone wrong, stabbings, and empty fridge, and a multi-tentacle evil about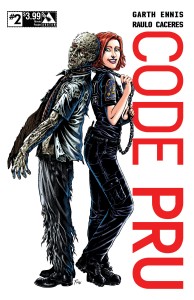 to devour us all. Learning on-the-job is much more challenging with the supernatural! This series is a lead-in to the ongoing monthly Code Pru stories running in an anthology to be announced shortly! Raulo Caceres' art never looked better than in the luscious black and white of this series. Available with Regular, Wraparound, Movie Poster, Nightlife, and a special Pure Art Incentive cover, all by series artist Raulo Caceres.
God is Dead #47
PRODUCT DESCRIPTION:      The end is neigh as the penultimate issue of God is Dead is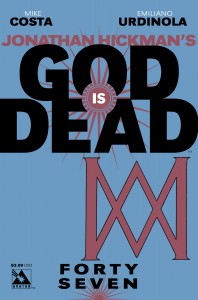 unleashed! We have seen the world destroyed and rebuilt in new images time and time again. But something is different this go round… the final cycle of destruction and chaos are playing out for the doomed inhabitants and no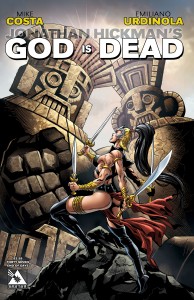 power on Heaven or Earth can prevent the End. Don't miss out on the true end of days and the final fate of this tortured planet in the pages of God is Dead. Available with Regular Cover by Jacen Burrows, Enchanting, Iconic Covers & End of Days covers by Ron Adrian, Carnage Wraparound Covers by German Nobile, and a special Gilded Incentive Cover also by Adrian.
Mercury Heat #7
PRODUCT DESCRIPTION:      Kieron Gillen kicks off the all-new arc with a victorious Luiza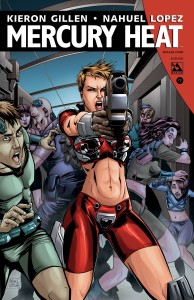 settling into her new live on Mercury. Things aren't so bad once you realize how much you enjoy the violence! But nothing can prepare her for the worst infection possible
starting to take root. A true nightmare spoken of in hushed whispers, and far more than any one woman can deal with. Available with Regular, Wraparound, Art Nouveau, Excessive Force, and a special Interstellar Incentive Cover by series artist Nahuel Lopez.
Providence #7
PRODUCT DESCRIPTION:      Robert Black came looking for a story but what he found is a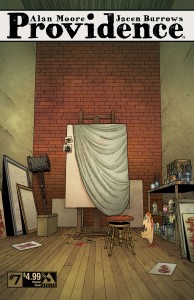 world of misery and woe. He's become a broken man only beginning to accept the horrors of the Lovecraftian world are real and hiding in plain sight. Alan Moore and artist Jacen Burrows have delivered a slow burn tale of fear and underlying dread that has delighted fans and scholars alike.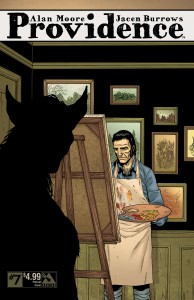 Moore has written every cover detail, every single page, and every nuance of this work to create his most fully-realized vision to date. Fans of Moore's immersive style and meticulous grasp of storytelling will be thrilled to add this essential piece of comics history to their collections! Available with Regular, Pantheon, Portrait, Dreamscape Wraparound, Women of HPL, and a special Ancient Tome Incentive cover, all by collaborator Jacen Burrows.
War Stories #16
PRODUCT DESCRIPTION:      In part one of the three part "Send A Gunboat", the men of the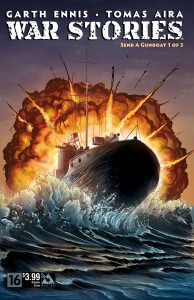 Royal Navy's gunboat squadrons defend England's coast against Nazi raiders. The little boats are fast, heavily-armed and deadly- and terribly vulnerable. And the enemy is never far away, as the commander of one vessel finds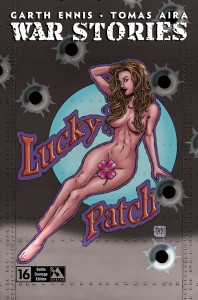 when his German opposite number takes a dangerous interest in him and his crew. By Garth Ennis and Tomas Aira. Available with Regular, Wraparound Covers by Thomas Aria, Good Girl Nose Art, Battle Damage Retailer Incentive Covers by Matt Martin.
Ask your local comic shop retailer to reserve copies for you today!