This is the new Avatar Press item coming to comic shops on Wednesday 4/20:
Providence Act 1 HC
PRODUCT DESCRIPTION:      Alan Moore's quintessential horror series has set the standard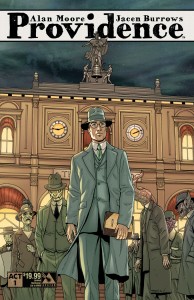 for a terrifying examination of the works of H.P. Lovecraft.  It is being universally hailed as one of Moore's most realized works in which the master scribe has controlled every iota of the story, art, and presentation.  The result has been a masterpiece like no other, unparalleled in tone and content, and a true must have addition to his essential works in the field.  For a limited one-time run, Avatar Press is presenting a collected Providence Act 1 Hard Cover edition that contains Providence issues #1-4, and all the back matter, which is limited to 6,666 copies.  This edition will not be reprinted, there will not be a softcover edition, and this material will not be printed again until the complete collection is available in the far distant future.  Don't miss your chance to enjoy the first piece of a true horror masterpiece and enter the creeping world of Providence.
Ask your local comic shop retailer to reserve copies for you today!