These are the new Avatar Press items coming to comic shops on Wednesday 6/1/16:
Cinema Purgatorio #2
PRODUCT DESCRIPTION:    Welcome once again to the theatre of the macabre!  Alan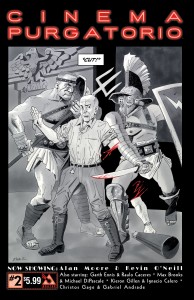 Moore and Kevin O'Neill are your hosts as the finest creators in all of comics join us in an anthology to end all anthologies.  Cinema Purgatorio is the ongoing monthly series which brings together the powerhouse creators to tell stories that only Avatar Press could.  These tales claw into your brain and nest there as you attempt to recover from the horrors you've witnessed.  Illustrated in stark moody black & white, every page of this series is filled with visions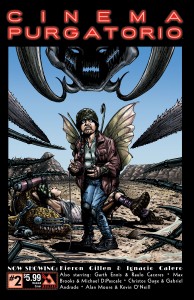 from the minds of your favorite creators.  Every issue is perfect-bound, with no ads, and all of the works are very long-form, there are no collections planned before 2018. Jump in now and embrace the new future of comics.  The one of which Alan Moore has always dreamed.  It's here, now. Hiding in the dark corner.  Welcome to Cinema Purgatorio.
Each story has its own cover by the series artist and there is also an Ancient Tome Premium edition limited to 1000 copies.   Now please take your seat, the finest comics in the world are about to begin.
Providence #9
PRODUCT DESCRIPTION:      The world of H.P. Lovecraft has begun to invade the mind of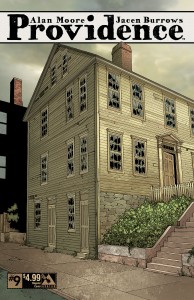 Robert Black.  His quest began as project to write a book but the more he is exposed to these horrors the closer to the edge of insanity he is pushed.  The cracks in the world seem to be widening as he nears some inexplicable crescendo of horror.  Alan Moore and artist Jacen Burrows have created the most realized version of Moore's Lovecraftian vision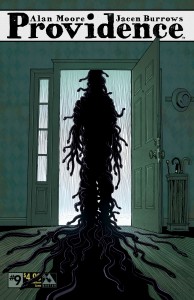 ever published. Fans and classical scholars have flocked to the pages of Providence to decipher the many layers of story being told in this masterpiece. Moore has written every cover detail, every single page, and every nuance of this work to create an unforgettable series. Fans of Moore's immersive style and meticulous grasp of storytelling will be thrilled to add this essential piece of comics history to their collections! Available with Regular, Pantheon, Portrait, Dreamscape Wraparound, Women of HPL, and a special Ancient Tome Incentive cover, all by collaborator Jacen Burrows.
Ask your local comic shop retailer to reserve copies for you today!