These are the new Avatar Press items coming to ComCav.net and ComiXology this Wednesday 5/4:
Cinema Purgatorio #1
PRODUCT DESCRIPTION:      Alan Moore and Kevin O'Neill invite you, and some of the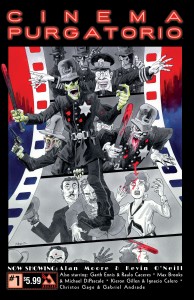 finest creators in comics, in to join them in a different kind of dark: Cinema Purgatorio!  This ongoing monthly series will feature Alan and Kevin in every issue and is their first major new project together since League of Extraordinary Gentlemen!  Anthology has become a dirty word, so far be it
from us to clean it up.  Instead we'll shine our light onto the cutting edge of sequential art, with black and white artwork to allow illustrator's pure visions, and the greatest assembly of writing talent ever gathered on one series.  Every issue is perfect-bound, with no ads, and all of the works are very long-form, there are no collections planned before 2018.  Jump in now and embrace the new future of comics.  The one of which Alan Moore has always dreamed.  It's here, now. Hiding in the dark corner.  Welcome to Cinema Purgatorio.
Crossed: Badlands #96
PRODUCT DESCRIPTION:    Christos Gage delivers a fiery return story to the world of the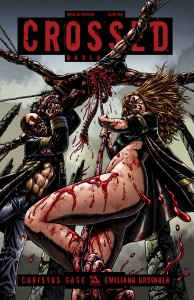 Crossed and the vicious alpha-infected, Smokey!   He's found the smart girls, he's found a place to farm and Smokey is preparing to settle in for the long-haul.  Can he pull off the first Crossed settlement?  If the Crossed are the
inevitable creeping doom, Smokey is the unavoidable fate waiting for you in a world of misery and woe.
War Stories #18
PRODUCT DESCRIPTION:      A sneak attack on the squadron's home base leaves Jonah all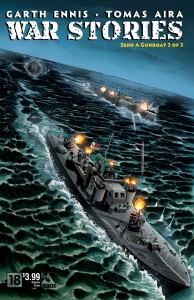 at sea, while Max's engagement hits a sudden wall. But out in the English Channel waits their adversary, the mysterious E-Boat commander nicknamed Hans the Bastard- and the showdown he has planned is nothing like
what our heroes are expecting. The concluding episode of Send A Gunboat, by Garth Ennis and Tomas Aira.