This is the new Avatar Press item coming to comic shops Wednesday 6/8/16:
Code Pru Connecting Covers Set
PRODUCT DESCRIPTION:  In case you missed the original listings, these first two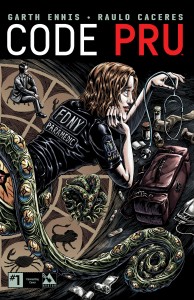 issues  of Code Pru lead directly into the ongoing story in Cinema Purgatorio!  Get caught up with this special Connecting Cover set and get both issues at the original cover price!  These incredible issues come together to make an amazing oversized image from Raulo Caceres!  Limited to just 2000 sets.
Ask your local comic shop retailer to reserve copies for you today!