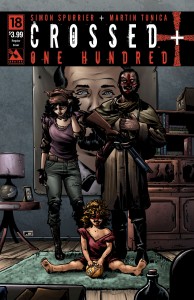 Comic shop retailers everywhere are making their final decisions for the comics they will purchase from the June issue of Previews for August on sale.  One of the highlights of the Avatar list for this summer is Crossed +100 #18 – the final issue of the Alan Moore created future Crossed series written by Wish You Were Here scribe, Simon Spurrier.  The series has taken fans on an insane trip into the future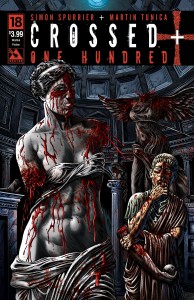 and seen the Crossed evolve into something more than the screaming monsters they were at the outbreak of C-Day.  Now the final tick of the clock strikes and there must be a reckoning.  Everything that has led Future Taylor to this point will change and the fate of two species hang in the balance.
If you've not tried Crossed +100 you are missing out on a fantastic study of evolution designed and outlined by the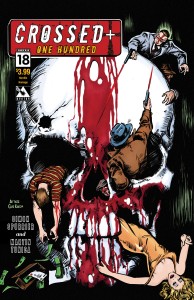 one and only Alan Moore.  Everything about this series is woven together to create a one of a kind experience.  From the use of evolved language to the very argument of nature versus nurture is imprinted indelibly by Moore's amazing imagination.
Ask your local comic shop to stock Crossed +100 #18 and the existing trades and back issues.  This is truly a one of a kind sci-fi horror series.