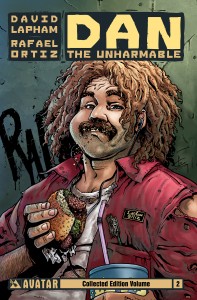 Summer is here and with it comes the opportunity for reading at the beach or poolside.  There are so many incredible Avatar stories to choose from, but we wanted to highlight a few that may make your summer sizzle.
Nothing goes with a good picnic like Dan The Unharmable.  This crazy series is collected into two trade paperbacks and details the adventures of an indestructible, amnesiac, professional loafer.  Imagine a cross between Hancock and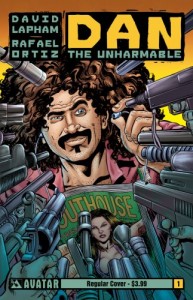 The Big Lebowski and you get pretty close to the awesomeness that David Lapham created with this unique series.  If you think you have even a modicum of an idea about what this series is like…think again.  It must be read to be fully enjoyed and will become your topic of conversation at the comic shop.
Dan The Unharmable Vol 1 & Vol 2 TPBs are available from your local comic shop, Amazon, and on ComCav.net.