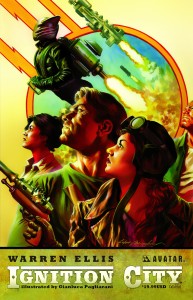 It's Friday and what better way to roll into the weekend is there than having a fantastic comic book series to read over the weekend.  Today we are discussing one of my all-time favorites – a Warren Ellis series that should appeal to both fans of classic pulps and to Firefly/Serenity collectors.
This is Ellis at his very best.  Where do all the old pulp heroes go when they are old and their glory days are behind them?  To Ignition City – the last spaceport and graveyard of the great swashbuckling pilots and adventurers.  Mary Raven has come in search of the man that killed her father.  And the outlaws that still stain the town have her in their sights.  This is Ellis redefining genres at his best and a true must read series.
You can find the trade paperback collection at your local comic shop, on Amazon, or at ComCav.net.