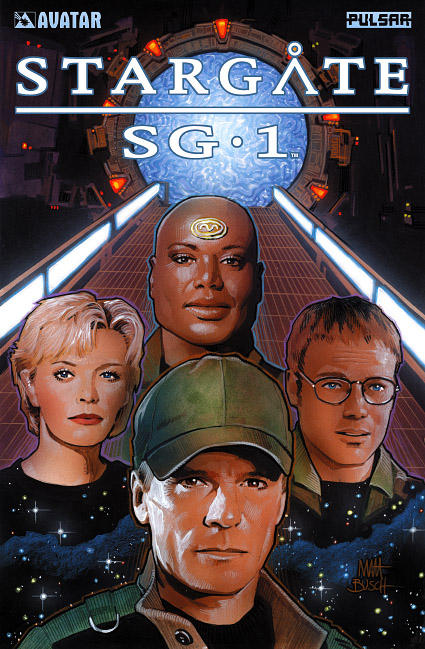 STARGATE SG-1 TM & © 1997-2003 MGM Television Entertainment Inc./MGM Global Holdings Inc. STARGATE SG-1 is a trademark of Metro-Goldwyn-Mayer Studios Inc. All Rights Reserved.
Latest news:

Avatar Press Now In Stores -- week of Aug 25

The Avatar Press comics and other items listed below will be available in comic shops worldwide beginning this week, according to our distributor. Most retailers in the U.S. display new shipments for the week beginning on Wednesday . Ask your local stores about these items. If you can't find them locally, the links below will take you to those items in the store, which includes graphics and descriptions of those items.

You can find out what else we've released in recent weeks in the Now in Stores section.
[ posted Tuesday, August 24, 2004 10:35:46 PM | permanent link to this item ]

Stargate SG-1 Store Update

The Stargate SG-1 Comic Book store has been updated with a number of new items from November 2004 solicitations. A slight change to the format of the store to make it easier to spot new items -- all of the brand new items are listed up front rather than being sorted into their series order right away.
[ posted Monday, August 23, 2004 1:42:32 PM | permanent link to this item ]
Stargate SG-1 Comic News Archives
May 2005
Sun
Mon
Tue
Wed
Thu
Fri
Sat
1
2
3
4
5
6
7
8
9
10
11
12
13
14
15
16
17
18
19
20
21
22
23
24
25
26
27
28
29
30
31
Mar Jun
Stargate SG-1 and
Stargate Atlantis
Comic Books
Stargate comic books in the store

Covers and pages for Stargate SG-1: POW series shown below. Story by James Anthony, artwork by Renato Guedes, color by Greg Waller, covers shown by Guedes and Matt Bush.
And material shown here is from the Stargate SG-1 Convention Special, available now!
About the creators: James Anthony has extensive experience with licensed science fiction comics including writing credits for Battlestar Galactica and First Wave comics. Renato Guedes is a talented newcomer who has also done work on DC's Smallville series. Cover painter Matt Busch is a highly-regarded fantasy and science fiction artist who has done extensive work for Star Wars licensing, as well as contributing work such as storyboards, production paintings, designs or licensing tie-in artwork for film properties such as Con Air, Hard Rain, The Mummy, and The Matrix and television series such as Farscape and Star Trek.
For the latest news about Stargate SG-1 and other Avatar Press comics, sign up for our email newsletter.
Contact Avatar Press/Pulsar Stargate SG-1 comic book editor William Christensen at stargate@avatarpress.net.