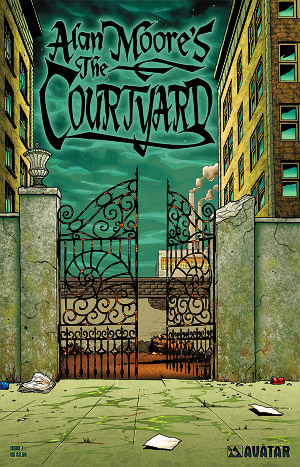 "Alan Moore is among the very best writers of the last twenty years. Antony Johnston is one of the best of the new generation of writers. Jacen Burrows is probably the best new artist of the last year. On the basis of the amassed talent alone, The Courtyard is explosive."
-- Warren Ellis, creator of The Authority and Strange Killings
Alan Moore's THE COURTYARD
Writer: Alan Moore
Artist: Jacen Burrows
Tones: Nimbus Studios
Sequential Adaptation: Antony Johnston and Alan Moore
Readership: Mature Readers
Format: B&W, 32 pages, monthly, 2 issue mini-series
The most celebrated writer in the industry, Alan Moore, teams up with the most demanded new artist, Jacen Burrows, to unleash this timeless tale of psychological horror. FBI man Aldo Sax has an amazing service record with the FBI. His legendary skills at piercing together the most baffling of cases has gotten him assigned to what may be his most confusing case yet. Several murders, no, more like lethal dismemberments, from the most unlikely of suspects just don't add up. And what few leads there are, all point to The Courtyard. This Lovecraftian tale of horror is stunningly illustrated by Jacen (Bad World, Scars) Burrows and fully rendered in gray tones by Nimbus Studios. The first Alan Moore sequential horror work in years is here!

Alan Moore's The Courtyard will be available in January 2003 at your local comic shop. Please support your local stores. If you can't find Alan Moore's The Courtyard locally, you may order it from our direct sales agent here.
Additional Artwork from Alan Moore's The Courtyard
Read more about
Avatar ventures into Alan Moore's The Courtyard
Avatar Press has announced that it will be publishing a tale of dread and psychological horror from one of the medium's acknowledged masters with Alan Moore's The Courtyard. The two issue mini-series begins in January 2003 from Avatar with story by Alan Moore, art by Jacen Burrows (Bad World, Scars), and sequential adaptation by Antony Johnston and Moore. Alan Moore's The Courtyard joins an Avatar Press schedule that includes projects from several high-profile creators in the coming months including Warren Ellis, Garth Ennis, and other projects from Moore himself.
"Alan Moore is among the very best writers of the last twenty years," notes fellow writer Warren Ellis. "Antony Johnston is one of the best of the new generation of writers. Jacen Burrows is probably the best new artist of the last year. On the basis of the amassed talent alone, The Courtyard is explosive."
"The Courtyard was my attempt to write a story within the mythology of H.P. Lovecraft that did not try to regurgitate Lovecraft's style," says creator Alan Moore. "It was an attempt to write a Lovecraftian story that was set in what was then the near future rather than in a Lovecraftian Era. As such, I thought it was a very successful story and it has always been a little favorite of mine in terms of my horror output. I am looking forward a great deal to seeing what Jacen does with the Avatar version."
"As someone who practically grew up on comics like Moore's Swamp Thing and Miracleman, I'm particularly proud to be involved with the first new Alan Moore sequential horror project in years," Avatar Press editor in chief William A. Christensen comments. "I've been talking with Moore extensively over the past several weeks getting this series set up exactly the way he envisions it. As much as I've avidly followed his work over the years it's even more incredible to see that storytelling intellect in action first hand. He's given us some very detailed commentary and outlined in depth how this tale should unfold on the comic page, as well as feedback on Jason and Antony's work in progress. This saga will be as pure Alan Moore as we can make it, and Jacen Burrows and Antony Johnston are the right people to execute that dark vision."
Speaking of visions, Antony Johnston's comments regarding his work on this project reveals a method well-suited to this collaboration. "I left my physical body and traveled astrally to Northampton," discloses Johnston of his role in dragging this vision into the light. "There, Alan and I performed an aether-ritual in sacrifice to the snake god Glycon, during which the truth of the universe was revealed to me (But I didn't have a pen handy, so I couldn't write it down). After four days we reached the centre of space and time, where awaited a miasma of sacred doors to infernal dimensions, each more dangerous and terrifying than the last. We got home just in time for tea, and I started writing."
And artist Jacen Burrows brings an equal amount of fervor to his approach to The Courtyard. "I'm getting a chance to work with one of the top creators in the history of this medium," Burrows says. "Who wouldn't be pissing themselves in excitement? This is the kind of opportunity I've dreamt of since I fell in love with this art form in the 80's. An Alan Moore horror story, I couldn't be any more thrilled with The Courtyard. This is why I signed exclusive to Avatar. Where else in today's industry could an artist get a chance to work with guys like Warren Ellis, Alan Moore, Garth Ennis and a host of other A-List writers I can't even talk about. No one has this line up and nowhere else gives them free reign to do whatever they want, carte blanche. I get a chance to work with the best doing what they love with the kid gloves off. Starting with my big break on Dark Blue, thanks to Warren, I've worked, finagled, and lucked into one of the most enviable positions in comics."
Alan Moore's The Courtyard is a two issue mini-series beginning in January 2003 from Avatar Press written by Alan Moore, with artwork by Jacen Burrows and sequential adaptation by Antony Johnston and Alan Moore.