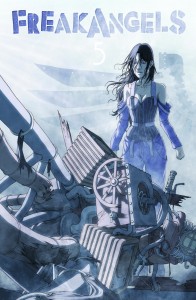 Ellis and Lapham fans, rejoice! Visit your friendly neighborhood comic shop today and enjoy the latest Avatar Press releases, including:
* FREAKANGELS VOLUME 5 Trade Paperback ($19.99, NOV100759)
* FREAKANGELS VOLUME 5 Hardcover ($27.99, NOV100760)
* FREAKANGELS VOLUME 5 Ellis & Duffield Signed Hardcover ($39.99, NOV100761)
In the fifth volume of Warren Ellis and Paul Duffield's magnum opus, FREAKANGELS, our favorite psychic twenty-somethings must deal with the aftermath of Luke's death… and return! What mysteries will they discover on the other side of their mortality, and what threat lies beyond the horizon of Whitechapel?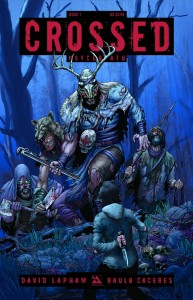 * CROSSED: PSYCHOPATH #1 Regular Edition ($3.99, DEC100768)
* CROSSED: PSYCHOPATH #1 Torture Edition ($3.99, DEC100769)
* CROSSED: PSYCHOPATH #1 Wraparound Edition ($3.99, DEC100770)
* CROSSED: PSYCHOPATH #1 Red Crossed Edition (Available in select locations; ask your retailer for pricing! DEC100771)
David Lapham's CROSSED: PSYCHOPATH #1 introduces Mr. Lorre, a horribly selfish man trying to survive on his own in a world overrun by homicidal maniacs. Meet a man who will leave behind every shred of his humanity to survive the Crossed. David Lapham (STRAY BULLETS, the upcoming CALIGULA) and artist Raulo Caceres (CAPTAIN SWING) descend into a story about the worst aspects of human behavior, a tale of unspeakable evils, violent assaults on both mind and body, and the longing for death and the sweet release it will bring.
Head on down to your local comic shop today, and dive into the groundbreaking, mind-expanding, world-shattering goodness of FREAKANGELS and CROSSED!