It's the day you've all been waiting for.? Crossed: Badlands!? Crossed: Wish You Were Here!? Crossed: Get Infected!? Crossed EVERYTHING!
The cornerstone of today's global celebration of extreme horror is the much-anticipated in-store release of Crossed: Badlands #1, a bi-weekly series written by creator Garth Ennis (Preacher, Hellblazer, Stitched) and illustrated by his original creative partner on the Crossed series, Jacen Burrows (Neonomicon). The first three-issue story arc sees the first reunion of these two superstar creators in the Crossed universe since the end of their original series back in 2009 (which can be read in the collected Crossed Volume 1 graphic novel). Their new tale is moody, atmospheric, and emotionally heart-wrenching, described by Ennis as taking place at a time "when the tricks and risks of survival become second nature, and people are starting to wonder what they?re surviving for." The main character, Ian, roams the Scottish Highlands with a small band of survivors, avoiding roving Crossed berserkers and wrestling with the memories of his wife's tragic death.? There's a beautiful balance to the storytelling, with subtle and simmering dramatic tension interspersed with short bursts of the violence and action you've come to know and love from Crossed. Enjoy the following preview, and then strike out to your local comic shop to pick up the issue!
Building upon today's C-Day release of of Badlands #1, Avatar Press has proudly debuted the first-ever episode of Crossed: Wish You Were Here, the new ongoing webcomic written by comic writer and novelist Simon Spurrier, with artwork by Javier Barreno (who returns to the Crossed universe for the first time since his work on Crossed Volume 2: Family Values).? The first episode of Wish You Were Here went live this morning at the website CrossedComic.com, and new episodes will be posted online every Thursday for years to come!? It's the first-ever "long form" Crossed epic, introducing a wide cast of characters who are tired of running from maniacs and masochists.? They've made a sanctuary on the remote island of Cava, cautiously watching for roaming predators and finding themselves often at odds with one another. "Apart from the random and sporadic attacks by roving packs of insane nutbag human predators," explains Spurrier, "these guys have a lot of time to think, to fret, to freak-out. There?s the eternal danger of daydreaming. The danger of losing hope. The danger of getting bored (and the attendant danger of looking for trouble). There?s just the horizon, and the terrifying things lurking just beyond it."
Want to check out Wish You Were Here from its very start? Click on the below graphic, and the internet will take you right to it!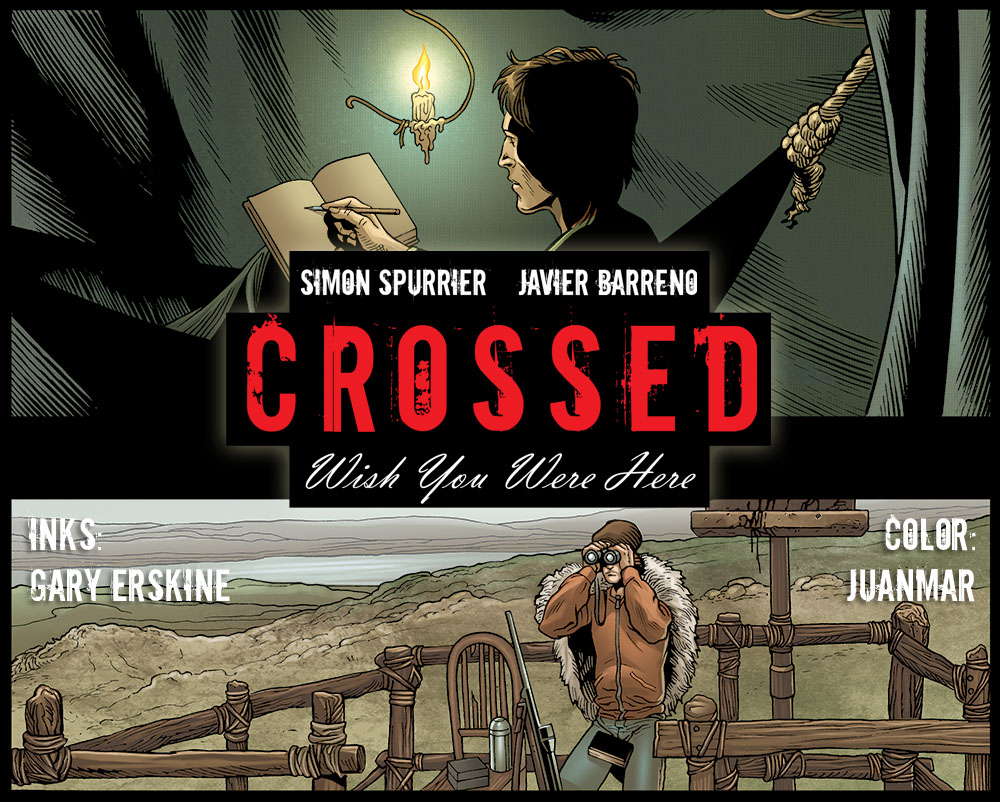 If you're a Crossed fan, you might remember a little diddy that Avatar published last year called Crossed: Psychopath, written by David Lapham (Stray Bullets, Ferals) and illustrated by Raulo Caceres (Captain Swing).? In keeping with the running theme of all-around awesomeness for March 14th, Avatar is proudly releasing the third volume in its graphic novel series with Crossed Volume 3: Psychopath, collecting the seven-issue miniseries in its entirety.? Psychopath is truly disturbing tale of a wolf in sheep's clothing, a deranged man who infiltrates a tight-knit group of survivors, fooling them into thinking he's like them.? But Harold Lorre is not like them.? He's not even like the Crossed.? He's something so much worse.? Horror fans will be amazed at how deep inside a killer's mind they will travel, as they learn each of Harold's perverse pleasures and vengeful schemes.? Care to give it a try?? We've included a preview of it below!
As if that wasn't enough, here's a quick rundown of our other Crossed happenings for today's C-Day celebration!
Crossed: Get Infected, a special sampler comic, introduces new readers to the Crossed universe by re-printing the original Crossed first chapter from 2008! Written by Garth Ennis with art by Jacen Burrows, Get Infected will be available worldwide at retail locations today!
Hundreds of retailers in the United States, Canada, and the United Kingdom have stocked the Crossed Survival Kit for today, an assortment of Crossed promotional items designed to maximize comic fan awareness and drive sales for area retailers. Your local comic shop may very well be handing out cool little giveaway items like buttons, temporary tattoos, and face masks!
Over two dozen comic retailers have entered Avatar's C-Day Retailer Contest!? These stores will be celebrating the launch of Crossed: Badlands #1 in their own unique ways, vying for the position of World's Greatest Crossed Promoter!? If you live near to any of the below store locations, you really should visit their stores today and enjoy the festivities, which may include costume and art contests, outrageous displays and decorations, and even grotesque (but delicious) baked goods!? (Events vary by location!)? The list of participating retailers is below, and you can find full store contact information and addresses by clicking on our Bleeding Cool link here.
Vigilante Press (Chicago, IL)
Third Eye Comics (Annapolis, MD)
Samurai Comics – Central Phoenix (Phoenix, AZ)
Samurai Comics – West Valley (Phoenix, AZ)
Samurai Comics – East Valley (Mesa, AZ)
Runch Comics (Vienna, Austria)
Rubber Chicken Comics (Bellingham, MA)
Larry's Comics, Inc. (Lowell, MA)
Jetpack Comics LLC (Rochester, NH)
MaximuM Comics (Las Vegas, NV)
MaximuM Comics (Henderson, NV)
Quest Comic Shop (Carrollton, GA)
DCBS – Discount Comic Book Service (Fort Wayne, IN)
Giant Robot Comics (Dartmouth, NS)
Cup o' Kryptonite (Des Moines, IA)
Comic Oasis (Las Vegas, NV)
Pittsburgh Comics (McMurray, PA)
Alternate Worlds Comics & Games (Cockeysville, MD)
OK Comics (Briggate, Leeds)
Collectors Corner (Baltimore, MD)
Velvet Underground Comics (Las Vegas, NV)
Darktower Comics & Collectibles (Chicago, IL)
Black Cat Comics (Salt Lake City, UT)
Orbital Comics & Collectibles (London, UK)
Inter-Comics (Online)
A Comic Shop (Winter Park, FL)
All in all, it's a huge day to be a Crossed fan!? If you love horror, if you love terror-filled tales that are uncompromising in their content, if you love brilliant creators like Garth Ennis and Jacen Burrows, then join Avatar Press and thousands of retail shops worldwide in the glorious celebration of C-Day!