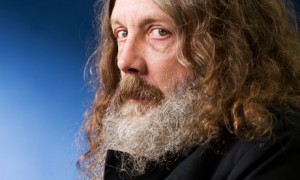 Yesterday, the Horror Writers Association held its 25th annual Bram Stoker Awards, recognizing superior achievements in horror writing. The 2011 awards consideration marked the first-ever inclusion of the category "Superior Achievement in a Graphic Novel." The contenders included:
Anya's Ghost by Vera Brosgol (First Second)
Locke & Key Volume 4 by Joe Hill (IDW Publishing)
Green River Killer by Jeff Jensen (Dark Horse)
Marvel Universe vs. Wolverine by Jonathan Maberry (Marvel)
Baltimore Volume I: The Plague Ships by Mike Mignola and Christopher Golden (Dark Horse)
Neonomicon by Alan Moore (Avatar Press)
From this fine list of projects, Alan Moore was recipient of the award. In absentia, Alan Moore's acceptance was read with good humor by award presenters Scott Edelman and Rocky Wood:
If I may, I?d like to strike a sour note from the onset with regard to my unfathomable and near pathological aversion to awards. I?ve witnessed far too many good and valuable creators make awards a measure, either of themselves or of their craft, and suffer subsequent inertia or derangement. If they fail to win one they become unbearable in their own eyes and if they win one they become unbearable to everybody else. Aged just eleven I was made Head Prefect at the primary school that I attended in Spring Lane, thus ruinously altering my personality. Berserk with power I became tyrannical and autocratic in my duties as milk-monitor, and personally believe that I was a short step away from unexplained mass graves on the school playing field and a tight-lipped appearance in a glass box at some paediatric version of the Haag.

Perhaps as a result of this, in later life I find I have a tendency to shun awards and, while appreciating the good will they represent, to get them out of my immediate environment as quickly as is possible. I?m currently residing in a sterilised and strictly accolade-free zone, with one unique exception. This, it hardly need be said, is the Bram Stoker that I had the honour of receiving in 2000 for League of Extraordinary Gentlemen.

One might ask why this is the sole survivor of a cull that saw its fellow statuettes, certificates and once, I promise, a container of Bart Simpson bubble-bath which had a sticker with ?Lifetime Achievement Award? printed on it covering the barcode; that saw all of these consigned to history. Firstly, and least importantly, I?d have to say that the award is in itself a piece of art, a beautiful creation that I never tire of looking at and handling. Secondly, and crucially, there is the provenance of the award to be considered. The Bram Stoker is, to me, a priceless token of appreciation from a group of people for whom I have limitless respect and admiration, these being my fellow workers at this darkest of all coalfaces. The landscape of imagination, and especially it?s less hospitable far boundary, is perhaps the most important human territory of all, and so to feel acknowledged by a lineage of fine writers which extends from the Great Old Ones of the past to the still unrevealed giants yet to come means more to me than I can readily express.

As is often the case when one?s work crosses personal boundaries, I spent a long time in fretful deliberation over Neonomicon and six months after finishing the work was still uncertain as to whether it was good or even publishable. These doubts dwindled at first glimpse of Jacen Burrows? wonderfully controlled delineations, both unflinching and meticulous, and have vanished entirely on receipt of this remarkable award. To all of you, thank you so much for this. You?ve made an unkempt and increasingly bewildered old man very happy.
The acceptance speech went over extremely well with the crowd, inciting laughter and applause at all the right moments. You can view the entire Bram Stoker Award ceremony online. The graphic novel portion of the Award ceremony can be found between 1:10:00 and 1:17:20.