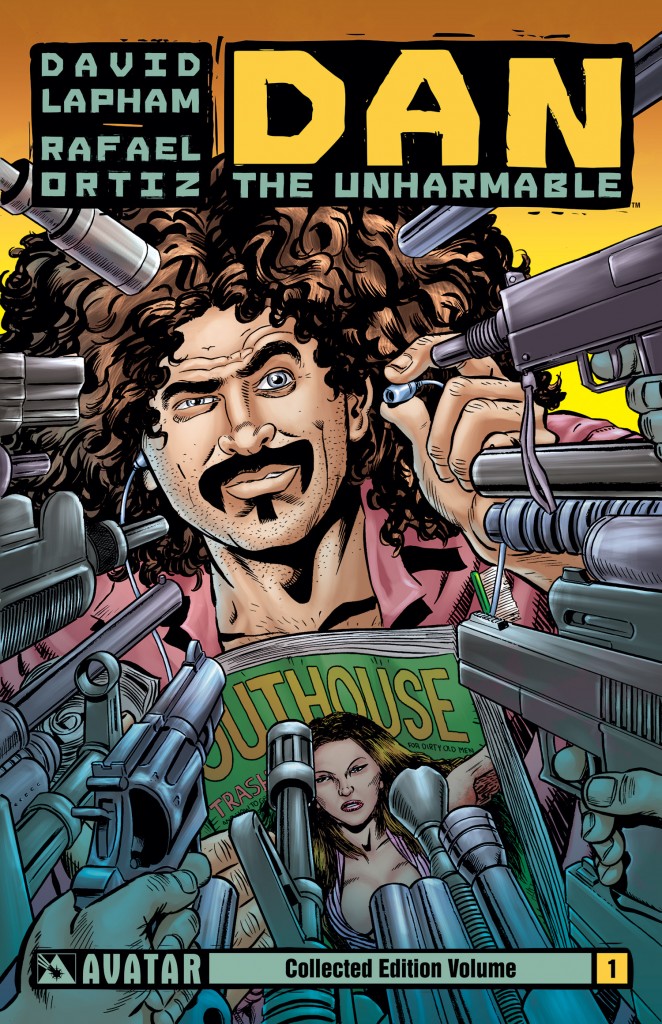 What do you get when you mash-up "The Big Lebowski" and "Kill Bill!" and throw them into one crazy comic?
Dan The Unharmable!
Created and written by Eisner Award-winner David Lapham (Caligula, Ferals, Crossed), Dan The Unharmable is a comic series like no other.
But don't take our word for it…
9.5 out of 10
"If you like great stories with exceedingly well developed characters and a unique premise and narrative, this comic looks like it might be just that very thing.
A total gem… a brilliant and excellently matched art and writing team…"
8.5 out of 10
"I really enjoyed this book. Lapham?s dialog was clever with… just the right amount of humor."
4 out of 5
"Just read this book because if you don?t, you?re going to hate yourself for missing out on this."
"…a brilliant concept that sounded good on paper and now looks even better in print."
So, who is Dan?
Whether you?re looking for a detective, hired muscle, blackmailer, or bedroom entertainment for the ladies, Dan's your man. He?s not afraid of anything, and why should he be? He?s completely invincible. You can beat him with a lead pipe, stick him in the oven, throw him off a bridge, or shoot him in his noggin, and it?s all the same to him. All he needs out of life is just enough cash to keep him in cigarettes and beer for a night or two, and beyond that, he doesn?t have a care in the world.
But Dan's bohemian paradise is all about to change. Back before he was so unharmable, he left a few loose ends. Now those loose ends are growing up and their mother's been murdered, which not only means that Dan has to solve his most personal case yet, but he's now legally responsible for four human beings who are anything but unharmable…
This first volume collects the complete first story arc from issues 1-6 of Dan and initial orders are due 11/24. Make sure to reserve a copy with your local comic shop now!