New in comic shops this week from Avatar Press:
GOD IS DEAD #1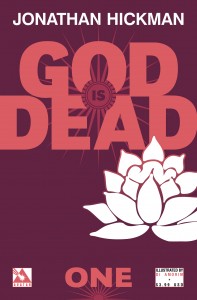 PRODUCT DESCRIPTION:? Like a thunderbolt from heaven, the epic launch issue of GOD IS DEAD is here!? East of West and Fantastic Four author JONATHAN HICKMAN launches a fierce new series that stomps where others fear to tread.? Mankind has argued over the existence of gods since the dawn of time.? In modern eras it?s been fashionable to mock religious believers with taunts of scientific testimony and fact.? But when the gods of old begin to reappear on earth and claim the domain of man for their own, the world is thrown into a state of utter anarchy.? Now Horus walks the streets of Egypt, Zeus has taken over the Sistine Chapel, and Odin is coordinating the dissection of the earth among the returned deities.? Mankind held sway over the world for thousands of years and their hubris over that time has made them powerful but when faced with the divine, can mortal weapons put an end to the second coming of the gods?? Available with a Regular cover by Jonathan Hickman, End of Days cover by super-star Jacen Burrows, a premium Iconic cover by Burrows that features a card stock cover and is limited to just 5000 copies, and a Pantheon Order Incentive cover by series artist Di Amorim.
DAN THE UNHARMABLE VOL 2 TP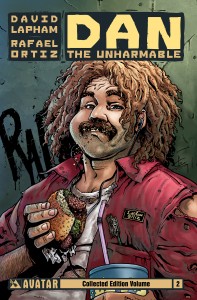 PRODUCT DESCRIPTION: Fan favorite writer DAVID LAPHAM has created one of the truly original gonzo comics of the decade.? Dan is the man. He?s a self-made slacker who some might call a bum, but he calls perfect. After all, he doesn?t need much, some good tunes, a couple of bucks, and a warm spot to take a nap in. Of course, his sort-of-maybe-wannabe kids keep getting into trouble with the most insane killers imaginable. It?s enough to give a guy cancer just thinking about it. But this unharmable likable bumpkin has to get his act together and help the kids before social services splits them up or a secretive Hollywood society of killers turn them into ground beef. Explosive and imaginative crime noir as written by a master of the genre, Eisner Award-winning writer David Lapham. Collects issues #7 – 12 of the Dan the Unharmable series.
ABSOLUTION: RUBICON #3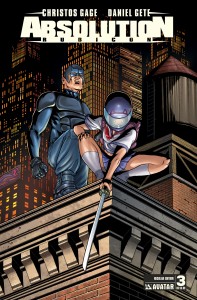 PRODUCT DESCRIPTION: ?CHRISTOS GAGE has redefined vigilante fiction with his hard boiled crime noir style and violent superhuman action.? The Urban Legend is dead.? Happy Kitty is MIA.? And John Dusk is broken.? The Polymath is an unstoppable bloodthirsty maniac and no one can take him down.? But when John Dusk proclaims a crime ridden neighborhood under his protection he does more than clean up the streets.? He calls a murdering madman out?? Available with Regular, Wraparound, and Electric Blue Retailer Incentive covers by series artist Daniel Gete, a Final Justice cover by Michael Dipascale, ?and a special Happy Kitty Premium cover by Gete that is limited to just 750 copies.
UBER #5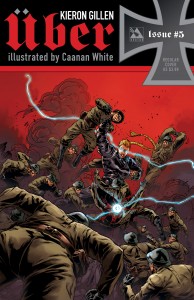 PRODUCT DESCRIPTION:? KIERON GILLEN unleashes ALL OUT WAR in the dramatic conclusion to the first Uber story arc!? The HMH Colossus is squaring off against Battleship Sieglinde and the streets of Paris are the battleground.? As the world?s first Uber soldier battle kicks off, the casualties are catastrophic and the very foundations of the city are destroyed.? When the smoke clears over the carnage, the direction of World War II is changed and each side must deal with devastating losses. ??Available with Regular or Wraparound cover by Caanan White, Propaganda Poster cover by Michael Dipascale, and a special Blitzkrieg Incentive cover by Caanan White.