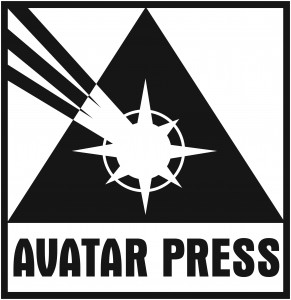 New York Comic Con 2013 Announcement – Avatar Press joins leading digital content distributor ComiXology in providing cutting edge comics to digital media fans. ?The exclusive arrangement sees Avatar's backlist of incredible creators, including Garth Ennis, Warren Ellis, Max Brooks, George RR Martin, and Alan Moore, finally with their uncensored works available digitally.
To celebrate the launch of this content, Avatar and ComiXology have made over 50 comics available for download, including 20 which were deemed "too extreme" for the Apple based app. ?Those extreme issues are available at the comiXology.com and titles purchased there will automatically sync to digital customers' favorite reading devices.
The complete launch list will be available by 10:00 AM?http://cmxl.gy/Avatar-Press-Debut?and includes these titles and issues:
Warren Ellis? Black Summer 0 – 7
Garth Ennis? Crossed 0 ? 9
Garth Ennis? Crossed: Badlands? 1- 9
Max Brooks? Extinction Parade? 1-2
David Lapham?s Ferals 1-6
Jonathon Hickman?s God Is Dead 1
Alan Moore?s Neonomicon 1-4
Warren Ellis? No Hero 0-7
Warrn Ellis? Supergod 1-5
Kieron Gillen?s Uber 0 – 5
The titles that are "too extreme" include Crossed, Crossed: Badlands, Neonomicon, and Ferals. ?This opportunity to service the digital comic fan allows Avatar to reach customers who are unable to find the company's visceral titles. ?And the roll out is just the beginning. ?Look for the wealth of Avatar backlist to continue to be provided each week and for the launch of same day as print titles coming in the next month.