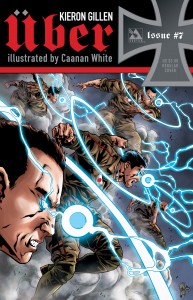 Each week, Decapitated Dan reviews the best horror comics around in the Horror Comic Round Up. ?And since the beginning, Dan has been a strong supporter of the series Uber. ?Kieron Gillen and Caanan White have put together a comic book that is truly unique in its ability to supply grueling horror and violent war action in one package. ?There have been romanticized super soldier stories in the past that are full of patriotism and adventure. Uber is the antithesis of classic enhanced soldier stories. ?It strives to remain true to the horror and misery of war while building the level of destruction that super soldiers are capable of to new heights.
Here is what Decapitated Dan had to say about the latest issue – Uber #7:
Decapitated Dan:?Seriously, does it get any better then Uber? Since the #0 issue, this series has been amazing, and it just seems to keep getting better. This 2 issue arc is now over, and all it did was setup for sooooooooooo much more to come. What I liked about this arc was seeing what was going on in Japan at the same time, and having that feeling of "How can the Allies even win?" It was the same feeling I got after the final issue of the first arc. White just delivers panel after panel, with some GORE-Geous artwork. I hate to really make this is a short review, but seriously just saying how great this series is issue after issue is enough. I feel like I just keep spewing my love for this series over and over again. Hand down, if you ask me what the Best New Comic in 2013 is, it's Uber!?

The full Horror Comics Round Up can be found here: ??http://comicrelated.com/news/23161/horror-comic-roundup