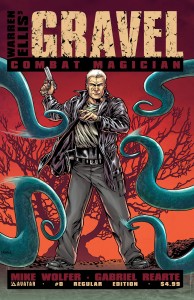 Fans demanded it and Avatar delivers! ?One of Avatar's longest running series returns with an all new series this January and the creator whose fingerprints are all over William Gravel's adventures returns to a world of violence and black magic. ?Mike Wolfer – renowned for his work on horror mainstays like Night of the Living Dead, Friday the 13th, and the indie horror femme fatale Widow – is ushering in a new day in the life of everyone's favorite combat magician.
Gravel: Combat Magician #0 presents the new beginning for a character who defined a decade of magic with his dark and twisted tales. ?Warren Ellis is well known for original creations that are so compelling that they become a part of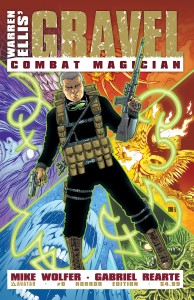 the comic book landscape forever. ?Gravel is one of the most long lived and storied of Ellis' creations, standing toe-to-toe with titles like Transmetropolitan and The Authority. ?Fans of the scribe's work will be thrilled to see that one of his darkest creations is continuing on with his creative partner, Wolfer.
The Gravel: Combat Magician #0 launch issue is in the November Previews and retailers are placing orders for it over the next two weeks. ?This double sized premiere includes both the first chapter of the new story and an 18 page primer that is the perfect entry point into the Gravel world for new readers. ?Wolfer's fans and new comic book readers will be able to step seamlessly into the world that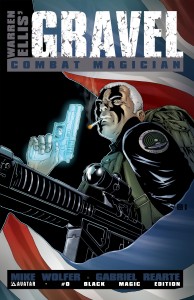 Ellis created and be able to enjoy a series that fire back into supernatural adventure. ?Ask your local retailer to reserve a copy of Gravel: Combat Magician #0 for you today. ?And be sure to check out the wealth of available Gravel trade paperbacks at your local comic shop.