New Avatar Press books in comic shops this week on Wednesday 12/4/13:
Absolution: Happy Kitty Special #1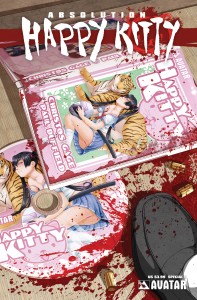 PRODUCT DESCRIPTION:? CHRISTOS GAGE rocked the comics? community with the events of Absolution: Rubicon!? From the ashes of the Polymath?s rampage comes the first special origin issue of fan-favorite character, Happy Kitty!? She?s just an average teenage girl who likes to play violent video games?with one small exception.? She?s also an Enhancile that was raised by killers and likes to cut bad people up into tiny cat nip sized bits.? Before Happy Kitty finds her new way in life as an enforcer for John Dusk, we are treated to a unique story that reveals how a special little girl became the most ruthless assassin Japan has ever known.? I bet the story is killer?hehehehe.? Available with Regular, Video Game, Japanese Art, and Design Retailer Incentive covers by series artist Paul Duffield.
God is Dead #4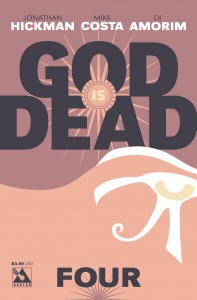 PRODUCT DESCRIPTION:? The End of Days has come!? As the Asgardians destroy pantheon after pantheon in their quest for total domination, the human race?s last hope is a desperate gamble to create their own god weapon.? But when the divine turns out to be the Anti-Christ?it leaves very few options other than obliteration for all of human-kind.? JONATHAN HICKMAN delivers a story like no other where the hubris of man is the only thing standing between freedom and eternal subjugation.? The Book of Revelations is open before us and the end of the world can?t be far behind.? Available with a Regular cover by Jonathan Hickman, End of Days cover, a premium Iconic card stock cover that is limited to just 5000 copies by Jacen Burrows, and a Pantheon Order Incentive cover by series artist Di Amorim.
Rover Red Charlie #1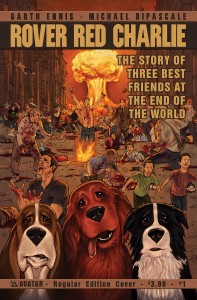 PRODUCT DESCRIPTION: ?When a worldwide plague causes all humans to kill each other and themselves, what happens to man?s best friend?? GARTH ENNIS ? the father of Preacher and Crossed ? delivers a story like no other, as an unlikely band of canines set out to survive on their own for the first time. ?This is the story of three best friends at the end of the world. ?Charlie was a helper dog and he was good at getting his feeders safely around.? Now he and his pals Rover and Red must escape the failing New York City and find their way in this new order. ?Ennis applies his incredible talent for creating rich and complex characters to a whole new species, with this shockingly original tale that is fully painted by Michael Dipascale. ?Available with a Regular, Wraparound, and a Dog Days Order Incentive cover by series artist Michael Dipascale.
Visit the Comic Shop Locator Service to find a local comic book store near you -?http://www.comicshoplocator.com/Home/1/1/57/575