The following comics are new to ComiXology on Wednesday 12/4/13:
Same Day As Print:
Absolution: Happy Kitty Special #1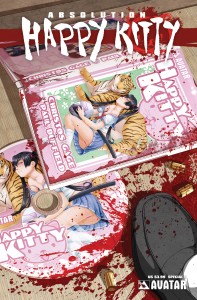 PRODUCT DESCRIPTION:? CHRISTOS GAGE rocked the comics? community with the events of?Absolution: Rubicon!? From the ashes of the Polymath?s rampage comes the first special origin issue of fan-favorite character, Happy Kitty!? She?s just an average teenage girl who likes to play violent video games?with one small exception.? She?s also an Enhancile that was raised by killers and likes to cut bad people up into tiny cat nip sized bits.? Before Happy Kitty finds her new way in life as an enforcer for John Dusk, we are treated to a unique story that reveals how a special little girl became the most ruthless assassin Japan has ever known.? I bet the story is killer?hehehehe.
God is Dead #4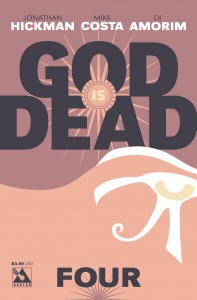 PRODUCT DESCRIPTION:? The End of Days has come!? As the Asgardians destroy pantheon after pantheon in their quest for total domination, the human race?s last hope is a desperate gamble to create their own god weapon.? But when the divine turns out to be the Anti-Christ?it leaves very few options other than obliteration for all of human-kind.? JONATHAN HICKMAN delivers a story like no other where the hubris of man is the only thing standing between freedom and eternal subjugation.? The Book of Revelations is open before us and the end of the world can?t be far behind.
Rover Red Charlie #1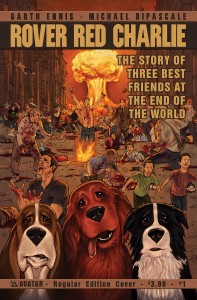 PRODUCT DESCRIPTION: ?When a worldwide plague causes all humans to kill each other and themselves, what happens to man?s best friend?? GARTH ENNIS ? the father of?Preacher?and?Crossed?? delivers a story like no other, as an unlikely band of canines set out to survive on their own for the first time. ?This is the story of three best friends at the end of the world. ?Charlie was a helper dog and he was good at getting his feeders safely around.? Now he and his pals Rover and Red must escape the failing New York City and find their way in this new order. ?Ennis applies his incredible talent for creating rich and complex characters to a whole new species, with this shockingly original tale that is fully painted by Michael Dipascale.
New To ComiXology 12/4/13:
Caligula #1 – #6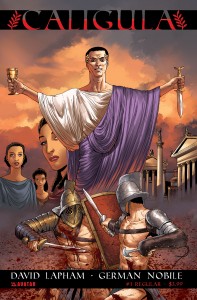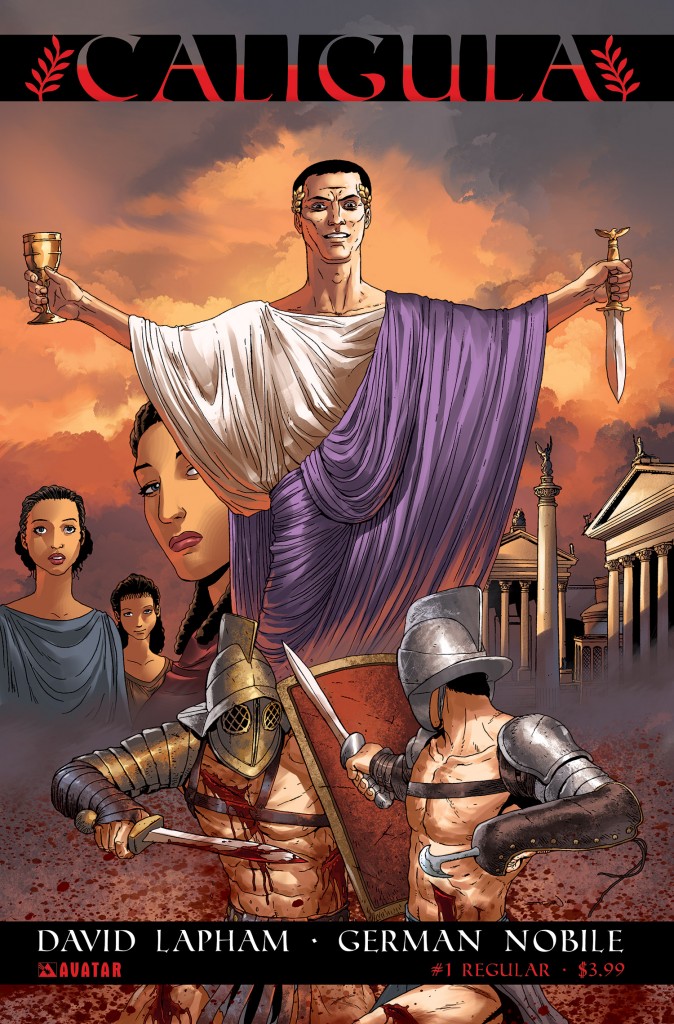 PRODUCT DESCRIPTION: ?In an age of depravity, one man's appetites horrified the entire Roman Empire. The very Empire he ruled. Some stories are passed from one generation to the next only in secret. Told in hushed whispers as the very words are too horrific to speak aloud for fear they offend the Gods. A Roman Empire built on the blood of its people, a ruler who began as a generous man but who ended as the most debased of monarchs. One name still speaks volumes of how absolute power can corrupt – Caligula. David (Crossed) Lapham unveils a new tale of Caligula, he was not just a man drunk on power, he was possessed. A modern master of horror, Lapham digs deep into the world of Rome 37 AD and offers a unique epic of horror. Joined by German Nobile who promises to serve up fully-painted pages dripping with blood, this all-new, full-color series will be six issues of evil that will make any Crossed fan smile with glee. For in the age of Caligula, all roads lead to Hell.
Captain Swing #1 – #4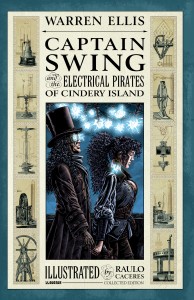 PRODUCT DESCRIPTION: ?From the sparking-mad mind of Warren Ellis, the creator of AETHERIC MECHANICS and DOKTOR SLEEPLESS, comes an electrical romance of a pirate utopia thwarted: CAPTAIN SWING & THE ELECTRICAL PIRATES OF CINDERY ISLAND. This crackling mini-series is illustrated in Raulo Caceres' stunning woodcut style, and presented in full color. London, 1830: newly-minted copper Charlie Gravel keeps seeing things he's not supposed to. A crooked Bow Street Runner with a flintlock revolver, flying things that are not supposed to fly, and the violent Scientific Phantasmagoria that is christened Spring-Heeled Jack, but is known by other names. It is the time of Captain Swing and his Electrical Pirates, and history will never be the same.
Crossed 2013 Annual: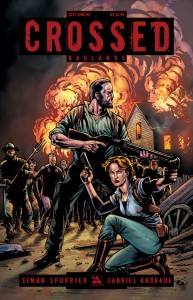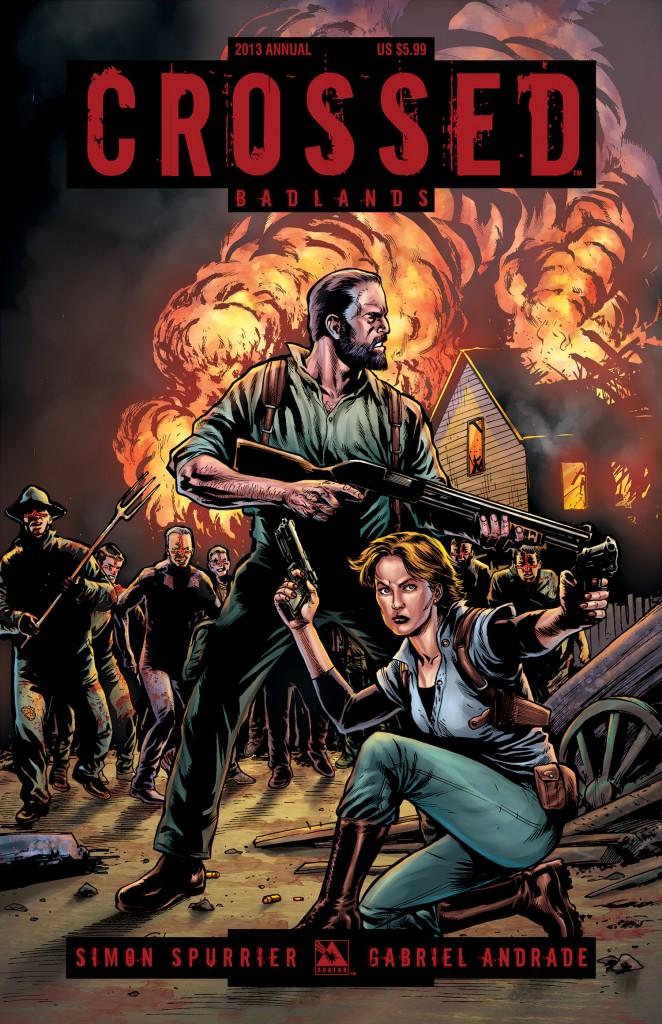 PRODUCT DESCRIPTION: ?The first ever Crossed Annual promises a super-sized tale of extreme horror you will not want to miss! ?Simon Spurrier unveils a standalone story, that is a perfect starting point for new readers, ?exploring a black corridor from before Wish You Were Here! ?While the weekly www.crossedcomic.com features the whole cast, one character screamed out for a special one shot issue that tells his tale of woe. ?Jackson, the mad Scotsman who tears into the Crossed with the sort of efficiency only the truly insane could accomplish, was hard-as-nails before the outbreak. ?Then he got tougher. ? Spurrier and the stunning art of Gabriel (Ferals) Andrade deliver a grueling dose of viciousness that explores what it means to be insane in a World gone Crossed. ? There is no hope. ?There is no help. ?There is only the Crossed.
Crossed: 2013 Special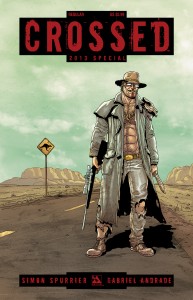 PRODUCT DESCRIPTION: ?Simon Spurrier and Gabriel Andrade celebrate five years of CROSSED with the first ever giant-sized Special! How do you commemorate a half-decade of GARTH ENNIS' violent masterpiece? By creating a story that goes beyond the surface misery of the gleeful Crossed maniacs and reaching into the fragile human psyche with something truly terrifying. Todd drives a road train through the desolate Australian outback. Before C-day he was a loser an outcast a fat nobody with a nobody-job. Now he's an Emperor of the wasteland. His rig and its trailers are the safest place around: stocked to the brim with canned food and gasoline. But his desire to have a harem who worship him opens himself up to the true horrors of the outback. Spurrier brings his trademark flare for developing intricately flawed characters to a story that will haunt your dreams for years to come.