The following Avatar Press comics are new to ComiXology on Wednesday 1/8/14:
Same Day as Print:
Crossed: Badlands #44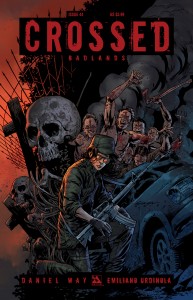 PRODUCT DESCRIPTION: Crossed: Badlands welcomes a new scribe, as Deadpool writer DANIEL WAY joins the ranks of the damned with a new tale of Crossed misery in ?Grave New World.? In a story that spans the length of the Crossed infection, a naval captain and his loyal crew attempt to outlast the monsters that have overtaken the world. But aboard the vessel there is little joy and the remaining crew wonder if perhaps their leader has gone mad. When two very strange survivors are brought on board a world of hate and vengeance begins to destroy this carefully preserved oasis. In a world of maniacs, there is no help, there is no hope, there is only the Crossed. Available with a Regular, Torture, Wraparound, and a special Red Crossed Incentive cover all by Gabriel Andrade.
New to ComiXology:
Anna Mercury #1-5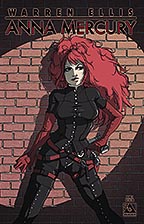 PRODUCT DESCRIPTION: ?Warren Ellis introduces you to the sultry Anna Mercury in this all-new sci-fi series! Dancing amid the spires of a city called New Ataraxia, there is a woman who can cloud men's minds, leap across buildings as if weightless, unerringly fire twin automatic pistols in the most insane conditions, and disappear in a crowded room. She fights against the political repression of an insane technocratic society, and she comes from a place that no-one in New Ataraxia has ever heard of. And she's got one hour to save the city from itself. A high-octane blend of The Shadow, Tomb Raider, retropunk science fiction and 21st century Weird Pulp Action, ANNA MERCURY is a headlong adventure serial about a beautiful and mysterious spy-adventurer who is not what she seems….
Doktor Sleepless #1-5
PRODUCT DESCRIPTION: ?It's the near future. No-one has their flying car. Everyone feels cheated. What America needs now is a Mad Scientist. A city with a secret is shocked out of its apathy by the return of a young technological genius who has reinvented himself as Doktor Sleepless. But perhaps he never left and perhaps his planned new future doesn't include the city. For fans of Ellis' fantastic sci-fi tales and have missed the absence of Transmetropolitan, this series is what the Doktor ordered!
George R.R. Martin's Fevre Dream #6-10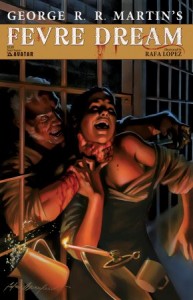 PRODUCT DESCRIPTION: ?The bloody conclusion of the ten-issue vampire epic on the bayou from the writer of the A Song of Ice and Fire novels! It?s been years since Abner Marsh has seen his old friend and co-captain, Joshua. The Civil War has come and gone, and new steamboats sail on rivers whose names have changed. And that, Marsh supposes, should have been the end of that. But Damon Julian is readying for a new war, and Joshua must ask for Abner?s help one last time ? to save him, and the world! This is the final showdown, and not everyone will survive the conclusion!