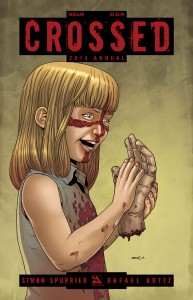 In a month where all the Crossed maniacs will be donning their wicked grinning faces for C-Day and the return of Garth Ennis to Crossed: Badlands #50, Avatar Press has slipped in a nasty little surprise wrapped up by the twisted minds of Simon Spurier and Rafael Ortiz. ?The Crossed Annual 2014 is a 40 page oversized one shot that gives Crossed: Wish You Were Here scribe, Spurrier a chance to tell yet another freakish yarn of the misery lurking in a quaint English country town. ?His description paints a unique picture of Crossed horror:
Ah, the English countryside! Tweeting birds, friendly vicars, crumpets and jam: the peaceful rural idyll. The cow?s in the dairy, the dog?s in his bed and there?s a fat asthmatic kid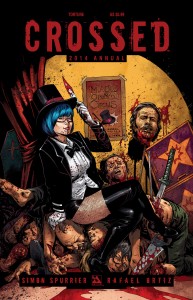 hiding up the old tower. Also: a mob of Crossed lurking near the duckpond ? quaint and friendly sadists who want nothing but to eat your face off and violate your skull ? and nobody but the withered old farmer?s wife to stop them. Problem is, she?s Crossed too. And insane. Can old Wheezy play them all off against each other long enough to escape? SUCH JOLLY LARKS.
With several of the most surreal Crossed stories under his belt, Spurrier is sure to make this a treat for the Crossed faithful that can help make your C-Day even better. ?Ask your local retailer to reserve a copy of the Crossed Annual 2014 and inquire as to their C-Day festivities. ?You may be in an infected zone come March 26th!