New Avatar Press comics in stores Wednesday 3/12/14:
Crossed Vol 8 TP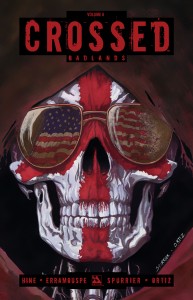 PRODUCT DESCRIPTION: Two of the hottest names in horror deliver three tales of terror in this volume of vile repulsions!? SIMON SPURRIER spins the mad tale of the insane survivalist from Crossed: Wish You Were Here ? Jackson!? And from the Badlands vault comes Spurrier's Crossed tale of hippies meet grindhouse terror like you?ve never experienced in ?American Quitters.?? Finally, an epic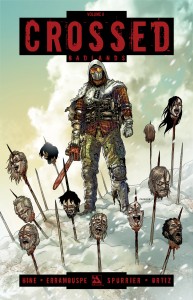 from the first hours of the Crossed outbreak in Japan as DAVID HINE releases the ?Gore Angels.?? What happens when an abused manga artist in a traditional Japanese home must not only face grinning Crossed devils but also the men that sexually attacked her?? The result is a tale of misery and vengeance made reality!? Crossed Vol 8 TP collects issues #37 ? 43 of the Crossed: Badlands series and the Crossed 2013 Annual. Also available in Hardcover.
Uber #10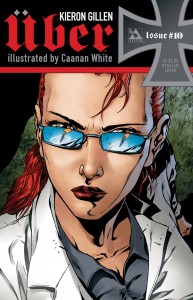 PRODUCT DESCRIPTION:? The Americans have their Battleship Enhanced Human as Razor becomes something more than he ever imagined.? But this scarred young man isn?t even old enough to drink, much less face the horrors of Hitler?s heavy hitters.? Meanwhile, the Pacific Theatre is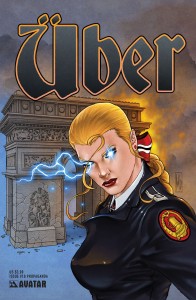 irrevocably altered as the Japanese Ubers stretch their destructive capabilities outward upon a naval opponent that is unable to counter them.? Worse yet,? no one expects Hitler's master stroke that is about the be unveiled….? See the new face of World War II in this smash hit series. Available with Regular or Wraparound cover by Caanan White, Propaganda Poster cover by Michael Dipascale, and a special Blitzkrieg Incentive cover by Caanan White.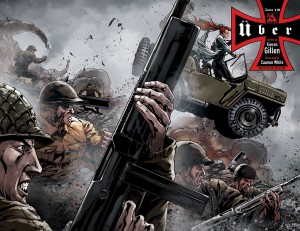 Visit the Comic Shop Locator Service to find a local comic book store near you – http://www.comicshoplocator.com/Home/1/1/57/575