New Avatar Press comics in stores Wednesday 3/5/14:
God is Dead #8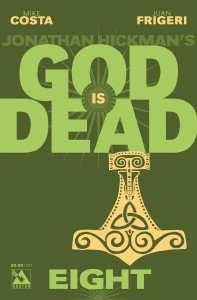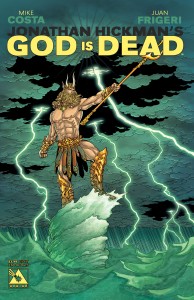 PRODUCT DESCRIPTION: Armageddon is upon us as MIKE COSTA continues the war of the divine with all new bi-weekly issues of God is Dead!? ?The World is at peace with Mother Earth Gaia the sole survivor of the epic war.? But a new resistance sets their sites on gods from the hidden pantheons to form a coalition to attack Gaia. But with more gods returning can this be trading one master for many?? JONATHAN HICKMAN?s unique vision of a world literally facing divine destruction roars on with new ravages from the gods of old.? Available with a Regular, End of Days, and Iconic covers by Jacen Burrows, a Carnage Wraparound cover by German Nobile, and a special Gilded Retailer Incentive Cover also by Burrows.
Rover Red Charlie #4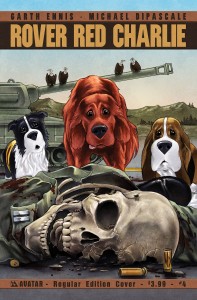 PRODUCT DESCRIPTION:? Is there nowhere a group of canine best friends can call home in the new world order?? Even outside the confides of the chaotic and bloody cities, Charlie and his pals Rover and Red face terrors that no dog should have to.? Three likeable companions attempt to find their way in a world that has literally gone to the dogs.?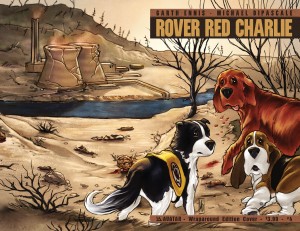 GARTH ENNIS, the master of original horror, has crafted a story that eloquently reveals the best and worst in human nature through the actions of man?s best friend.? Available with a Regular, Wraparound, and a Dog Days Order Incentive cover by series artist Michael Dipascale.
Visit the Comic Shop Locator Service to find a local comic book store near you – http://www.comicshoplocator.com/Home/1/1/57/575