Avatar Press new titles to ComiXology Wednesday 4/2/14:
Same Day as Print
Caliban #1
PRODUCT DESCRIPTION: Master storyteller GARTH ENNIS and Fashion Beast artist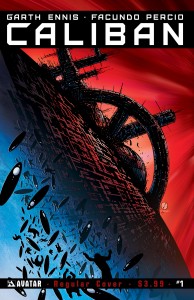 FACUNDO PERCIO team up to deliver a haunting new epic of science fiction horror. The crew of the Caliban travels hyperspace on nothing more than a routine trip for the giant vessel. Just human beings that have been inside a bit too long, confident of no other life in the Galaxy, and all the vastness of space to remind them how far they are from home. But when an impossible accident suddenly causes the Caliban to slam into an abandoned alien ship, a nightmare in space begins to unfold. Ennis delivers his unique brand of flawed characters, spot-on dialogue, and trademark flare for the unexpected in a new series in the vein of Alien. This is the beginning of the end for the crew of the Caliban.
Crossed: Badlands #51
PRODUCT DESCRIPTION: GARTH ENNIS ? the creator of Crossed and Preacher,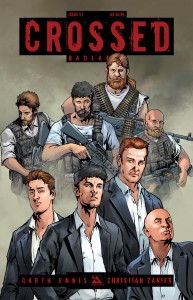 continues the tale that set off C-Day in comic shops worldwide last month! We return to the beginning of the bloodiest survival horror comic ever created. For over five years fans have speculated and postulated how it all began. Now Ennis addresses a story directly to the faithful that have been preparing for the outbreak since 2008. Artist CHRISTIAN ZANIER provides the shocking illustration as the Crossed plague?s earliest days are chronicled for all to see. But be warned? there is no hope.
God is Dead #10
PRODUCT DESCRIPTION: More returned gods and demigods have targeted the Earth as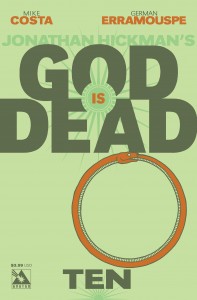 their own. Now where once there was a single pantheon under Mother Earth Gaia, there is a churning vortex of divine anger and wrath. Mankind plotted to overthrow a god. But little did they know that the solution may be worse than the problem. MIKE COSTA continues JONATHAN HICKMAN?s vision for the war of the divine in the pages of God is Dead!
New to ComiXology
303 #5 – 6
PRODUCT DESCRIPTION: ?Garth Ennis concludes this major, full-color, creator-owned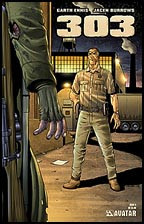 epic with a stunning twist and all-out action! He's come ten thousand miles to fire one bullet at the only target he cares about. Now, the anonymous Russian Colonel faces his final test- but when he finds his victim in his sights, has he got what it takes to pull the trigger? Or do the ghosts that dog his heels have other plans for him? Find out, in the final shocking installments of 303.
**Be sure to check out the David Lapham bundle sale at ComiXology where you can get the full series of Ferals and Caligula for a discounted price: ?https://www.comixology.com/Save-On-Avatar-David-Lapham-Bundles/page/1372