New Avatar Press new titles in comic shops Wednesday 5/28/14:
Crossed: Badlands #54
PRODUCT DESCRIPTION: ? ? In the opening days of the Crossed infection the world reels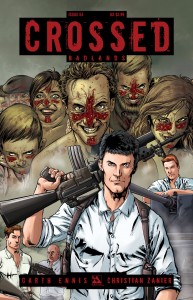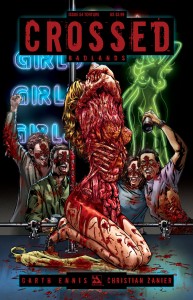 beneath the onslaught of maniacal insanity. ?And yet, between the heartbeats of the maniacs loosed on unsuspecting humanity, a deadly endgame of nuclear war is playing out. ?With Russian nukes inbound to the east coast of the United States, the English Prime Minister must make a daring decision to avoid all out human annihilation while trying to determine the cause of the Crossed plague tearing through his country. ?In this world full of monsters, there is no help. ?There is only the Crossed. ?Available with Regular, Torture and Red Crossed Incentive covers by Christian Zanier a Fatale Fantasy cover by Matt Martin and a Wraparound cover by Gabriel Andrade.
God is Dead #13
PRODUCT DESCRIPTION: ? ? ?A new arc begins as MIKE COSTA delivers the intensity and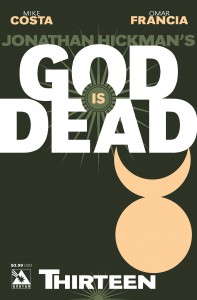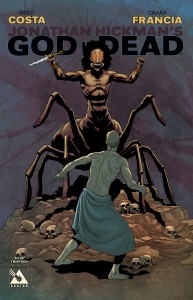 darkness in the ongoing tale of the gods returned.? As the dust settles, a new voice from the void arises, one that is known of modern man and full of divine wrath.? He is risen, Jesus Christ again walks among men!? The most audacious arc of God Is Dead has arrived and Jesus begins to set things right… but His salvation might be causing more harm than good.? Available with not only a Regular cover but also an End of Days cover, Iconic, and Gilded Order Incentive copies by Jacen Burrows and a special Carnage Wraparound by German Nobile.
Rover Red Charlie #6
PRODUCT DESCRIPTION: ? ? ?The FINAL issue is a super-sized concluding chapter to the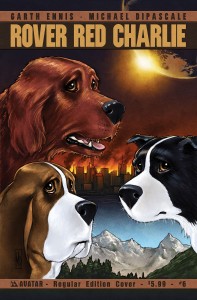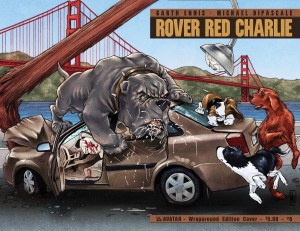 story of Rover, Red, and Charlie. ?The boys made it from New York to the big splash, but things are far from good. ?Herman is back for vengeance and as the world falls down around them, these three canine best friends must face his wrath. ?And even the bonds of friendship can?t stop the inevitability of the long sleep. ?GARTH ENNIS delivers three of his most beloved characters to the end of the world and tells a gripping story through the innocent eyes of dogs. ?Available with a Regular, Wraparound, and a Dog Days Order Incentive cover by series artist Michael Dipascale.