This Saturday, May 3rd fans everywhere will celebrate the comic industry's annual party. ?Comic book shops worldwide will open their doors to new readers with a wide selection of comics that are free to sample and introduce you to new ideas in this most colorful of mediums.
Avatar Press is participating in the event with two brand new publications!
UBER THE FIRST CYCLE
PRODUCT DESCRIPTION: ? ? An ideal entry point into the world of Uber!? Kieron Gillen and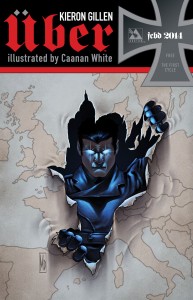 Caanan White electrified the comics community with their runaway hit, UBER in 2013.? Now the creative team that revolutionized the super soldier genre is presenting a special Free Comic Book Day edition, Uber: The First Cycle!? This is a history book told with the events of the first two story arcs woven into real-World history and with tons of all-new writing from Gillen, special new art and sneak-peaks of upcoming pages.? This issue will bring readers new and old up to speed on the first two arcs of the Uber series, without ruining all the fun of reading the collected editions.? It also serves as a direct teaser into the summer 2014 Uber story that promises to be the biggest and most shocking yet!
BLEEDING COOL MAGAZINE FCBD 2014 EDITION
PRODUCT DESCRIPTION: ? ? ?Bleeding Cool Magazine celebrates Free Comic Book Day and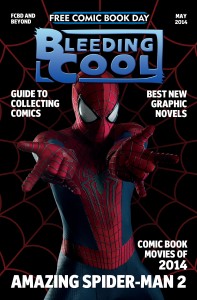 the launch of The Amazing Spider-Man 2 film with an All-New issue dedicated to introducing new fans to comic books!? We packed this special issue full of features that will turn FCBD visitors into comic shop regulars.? This year?s issue is the perfect tool for local comic shops to introduce new fans to the hobby.? With features on collecting, shopping, preserving, and developing their collections, it is a must have for every Free Comic Book Day event.? The features include new top Graphic Novel lists, Tips and Tricks for growing your collection, and a guide to your friendly neighborhood comic shop!? This perfect entry point into Bleeding Cool Magazine is ideal for giving readers tons of extra FCBD content and to introduce our hot comics, speculation, and unique brand of entertainment to a host of new customers.? It?s not just cool?it?s Bleeding Cool!
To find a participating comics retailer near you, check the FCBD store locator: ?http://www.freecomicbookday.com/storelocator
And be sure to buy a comic or two from your local comic shop to thank the retailer for celebrating this event in their stores!