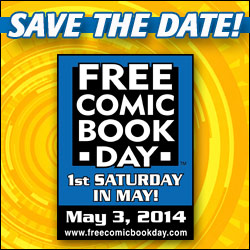 The biggest comic book party of the year takes place tomorrow May 3rd in local comic shops. ?Free Comic Book Day is a celebration of all things comic related and acts as a wonderful entry point for new fans to discover the hobby that we love. ?As part of the festivities Avatar is providing an all original introduction to Uber, Kieron Gillen and Caanan White's fascinating and violent world of enhanced soldier warfare.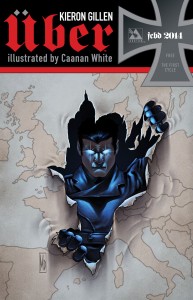 Uber is one of the biggest new series of 2013 and has constantly been hailed as a powerfully original story. ?On Free Comic Book Day, Uber The First Cycle will be available and act as the perfect gateway for new fans to enter this horrific world of war. ?The comic is presented as a historic dossier that provides behind the scenes interviews with characters and events that have led to this point of the story. ?Kieron Gillen has masterfully prepared this offering to be both an entry point and a valuable addition to your Uber collection.
Celebrate Free Comic Book Day with your local retailer – to find a participating comic shop click here: ??http://www.freecomicbookday.com/storelocator
And be sure to buy a few new comics while you are celebrating the event as a way of thanking your local shop for supporting this wonderful event.