These are the new Avatar Press titles arriving in comic shops Wednesday 7/9/14:
George RR Martin's Skin Trade TP
PRODUCT DESCRIPTION: ? ??Private investigator, Randi Wade sees the ravaged remains of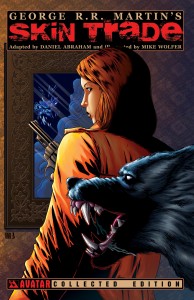 innocent victims that have been savagely murdered and skinned. As the mysterious secrets of the Blackstone Manor begin to be uncovered, she gets ever closer to the monstrous truth…werewolves are real! George RR Martin combines his unmatched creative vision with the visceral illustrations of horror master Mike Wolfer to create something intensely unsettling. ?Collecting issues #1-4 of the comic book series with a gruesome cover gallery.
Visit the Comic Shop Locator Service to find a comic shop near you: http://www.comicshoplocator.com/Home/1/1/57/575