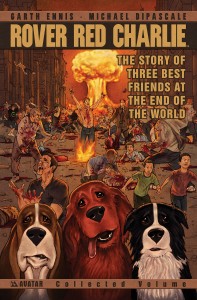 Garth Ennis is a master of storytelling in every genre. ?He conquered horror with titles like Crossed and Caliban, tackled action with Stitched and War Stories, and defeated perhaps the most challenging of all, humor with Dicks and The Boys. ?But never before has he so flawlessly combined all genres to tell a truly inspiring story as he has in the pages of Rover Red Charlie.
Fans and creators alike are calling this story one of the best of the last year. ?And the book received an incredible endorsement from perhaps the biggest writer in all of comics, Alan Moore –
"In Rover Red Charlie, an uncomprehending dog's-eye view of the apocalypse, perhaps the medium's finest writer essays a breathtaking feat of the imagination with enormous heart, and not a trace of sentiment. ?Given a damp and warm reality by Michael DiPascale's beautifully judged art, Garth Ennis manages, with hardly any homo sapiens in sight, to tell what is quite possibly the most profoundly human story of his already astonishing career. ?This is a book for life, not just for Christmas."
Ask your local comic shop to reserve a copy of the upcoming Rover Red Charlie TP today.